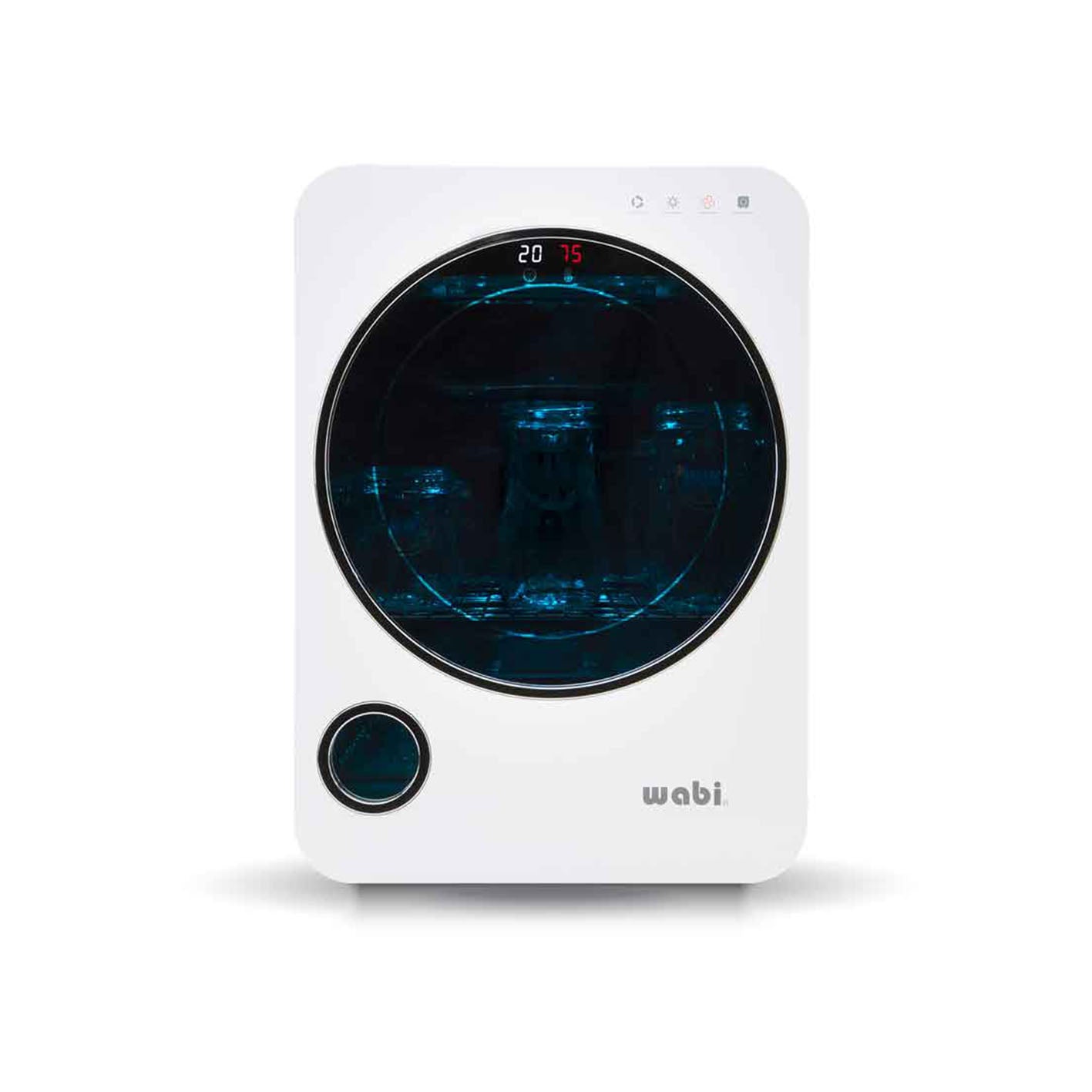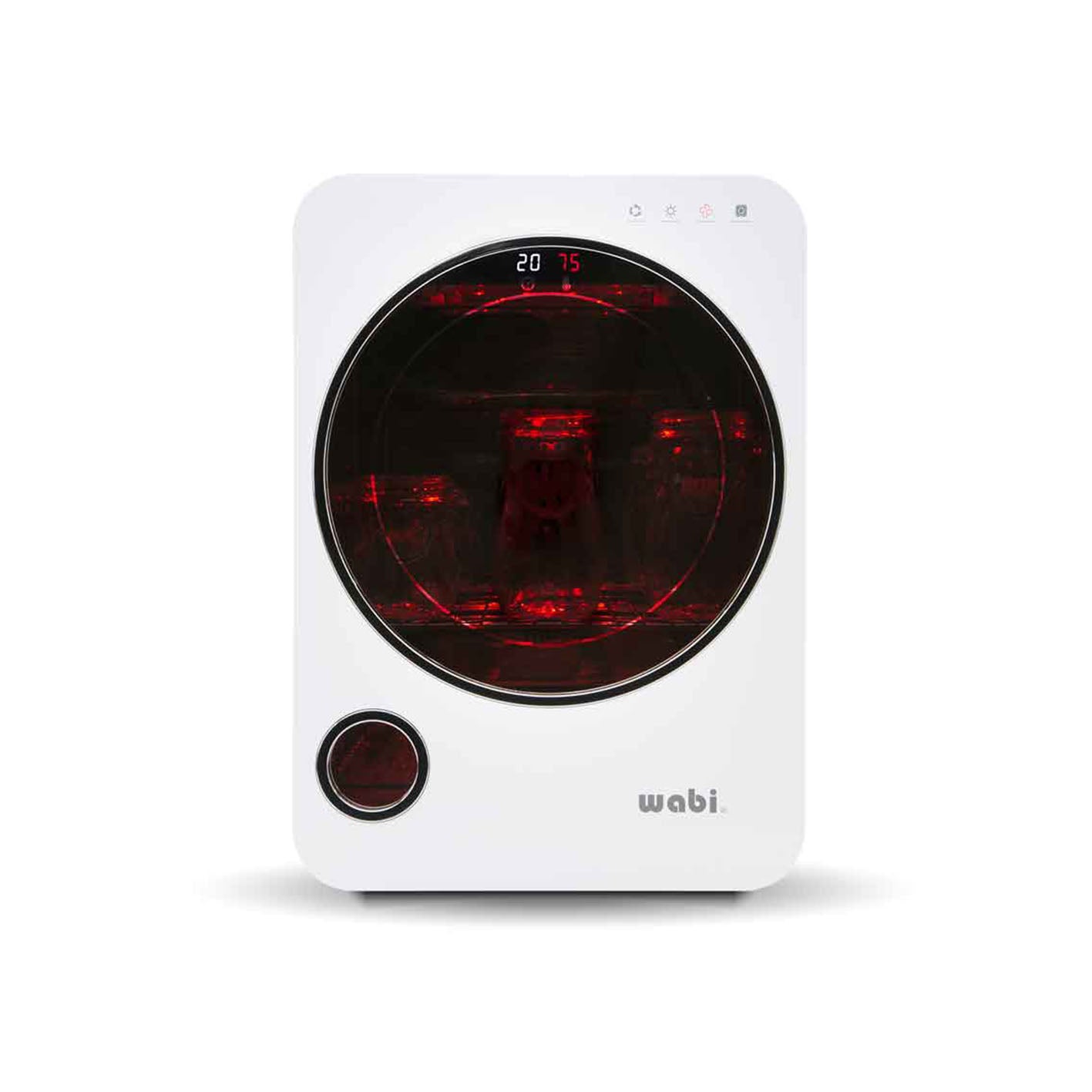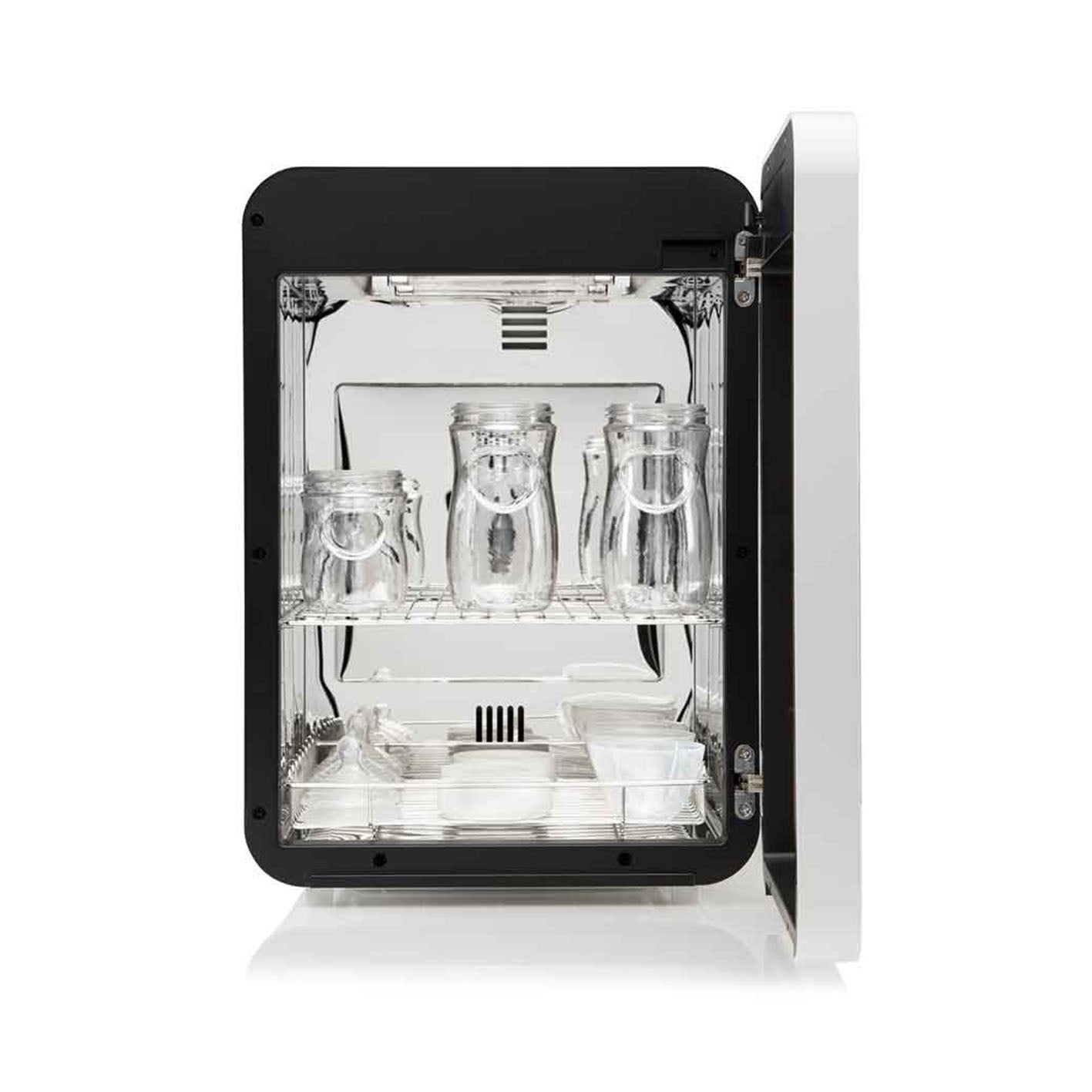 UV-C Sanitizer Sterilizer & Dryer
Get it from our partners:
The WABI® UV-C Sanitizer & Dryer is the best patent-pending hard surface device that provides disinfection solution resulting in greater efficiency in less time.

• 3-in-1: Sanitizer + dryer + Storage unit.
• One button does it all.
• BPA Free + FDA approved materials.
• Patent-pending venting system.
• Dual OSRAM® UV-C bulbs.
• 99.9% effective result from 3rd party lab testing.
Free shipping within the U.S. lower 48 states. We would be happy to accept returns of any UNUSED WABI product in its original packaging within 30 days of the purchase date.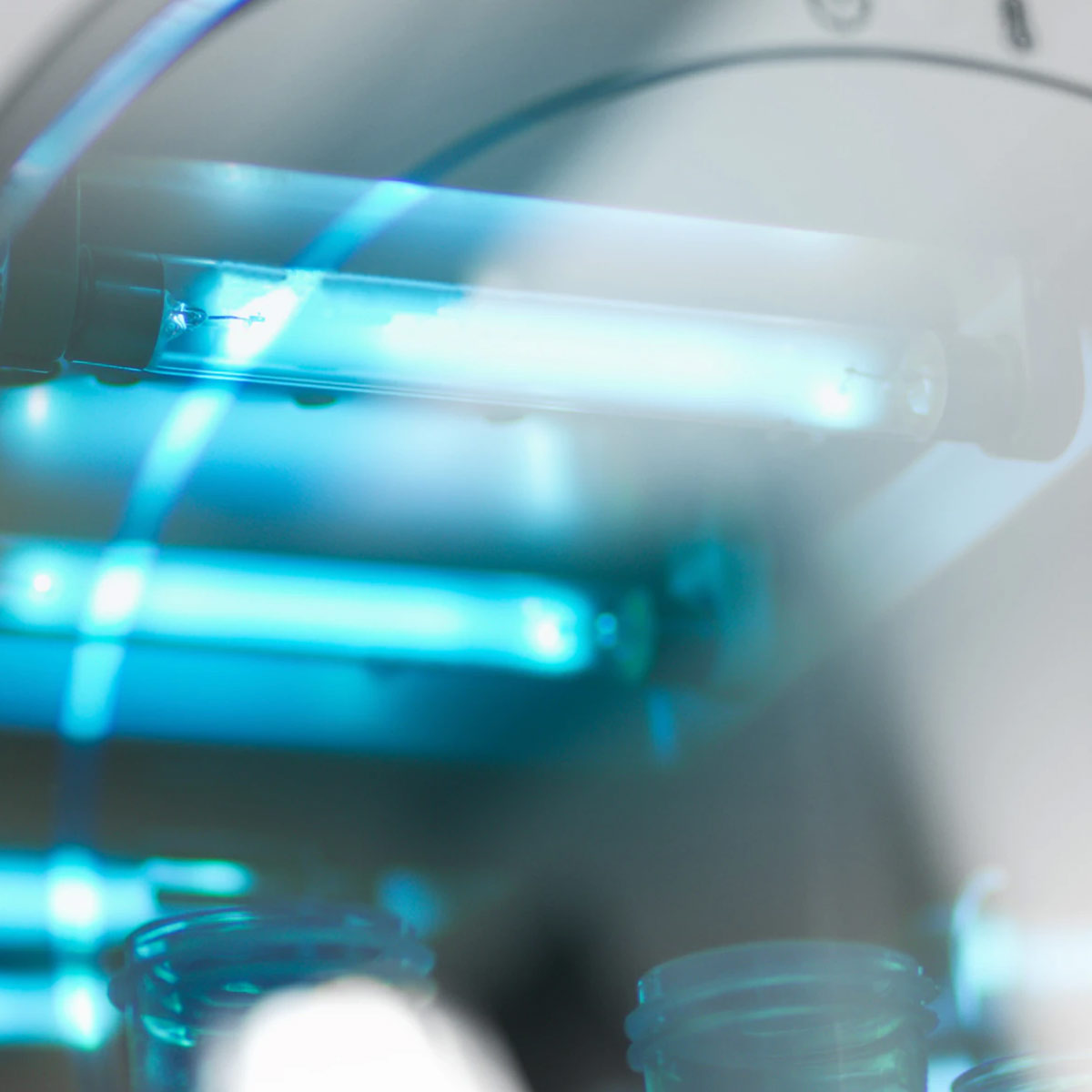 Two bulbs are better than one
Kills 99.9% Of Household Germs
Third-party lab tested to kill 99.9% of household germs effectively when use as directed.

↠ Dual UV-C bulb for 2X the power.
↠ Tested for household germs, Coronavirus 229E*, H1N1, & Norovirus.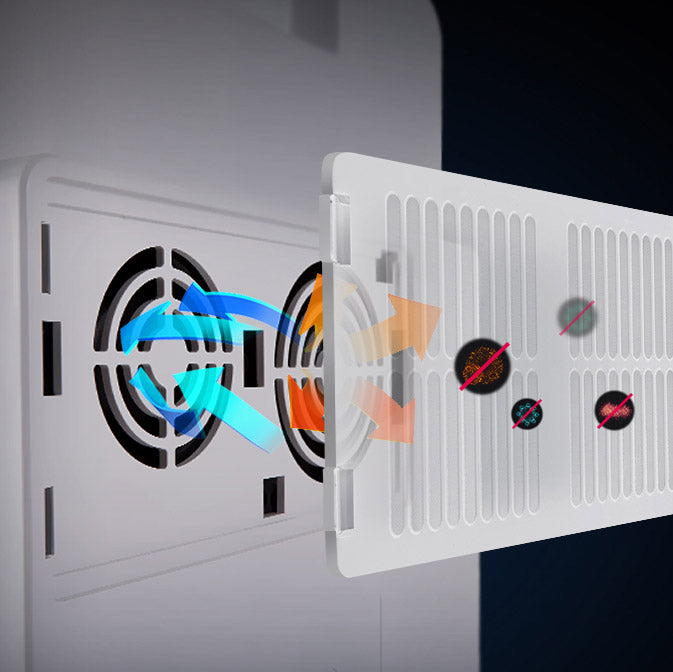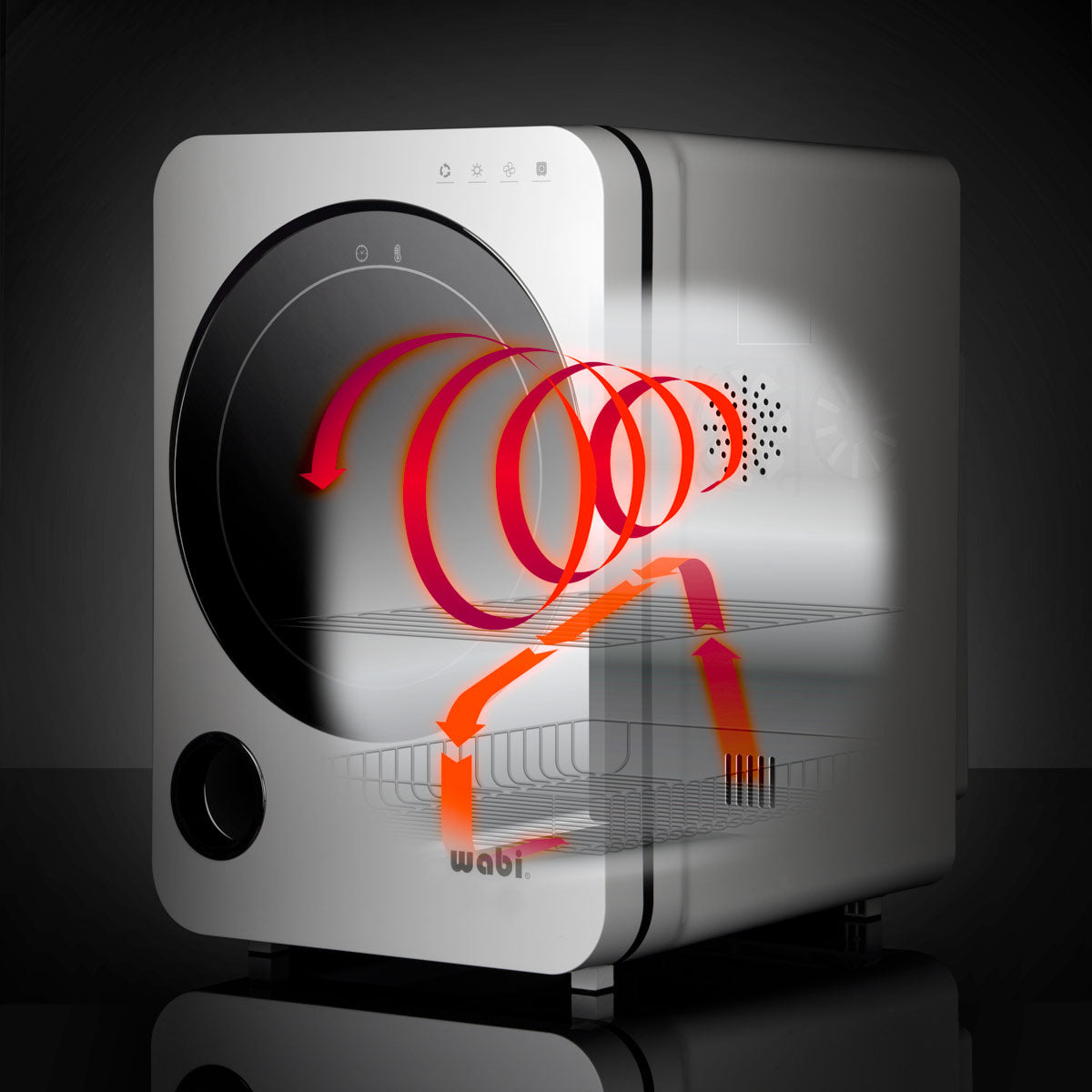 Fast Drying
We Dry Very Hard
Patented technology for 3X more efficient drying and cleaner airflow with our dual ventilation system. It also eliminates the typical odor issue you see with UV-C sanitizer.
Optimized
Low Temp Drying
PTC heating technology precisely keeps the drying temperature lower to prolong the life cycle of your objects.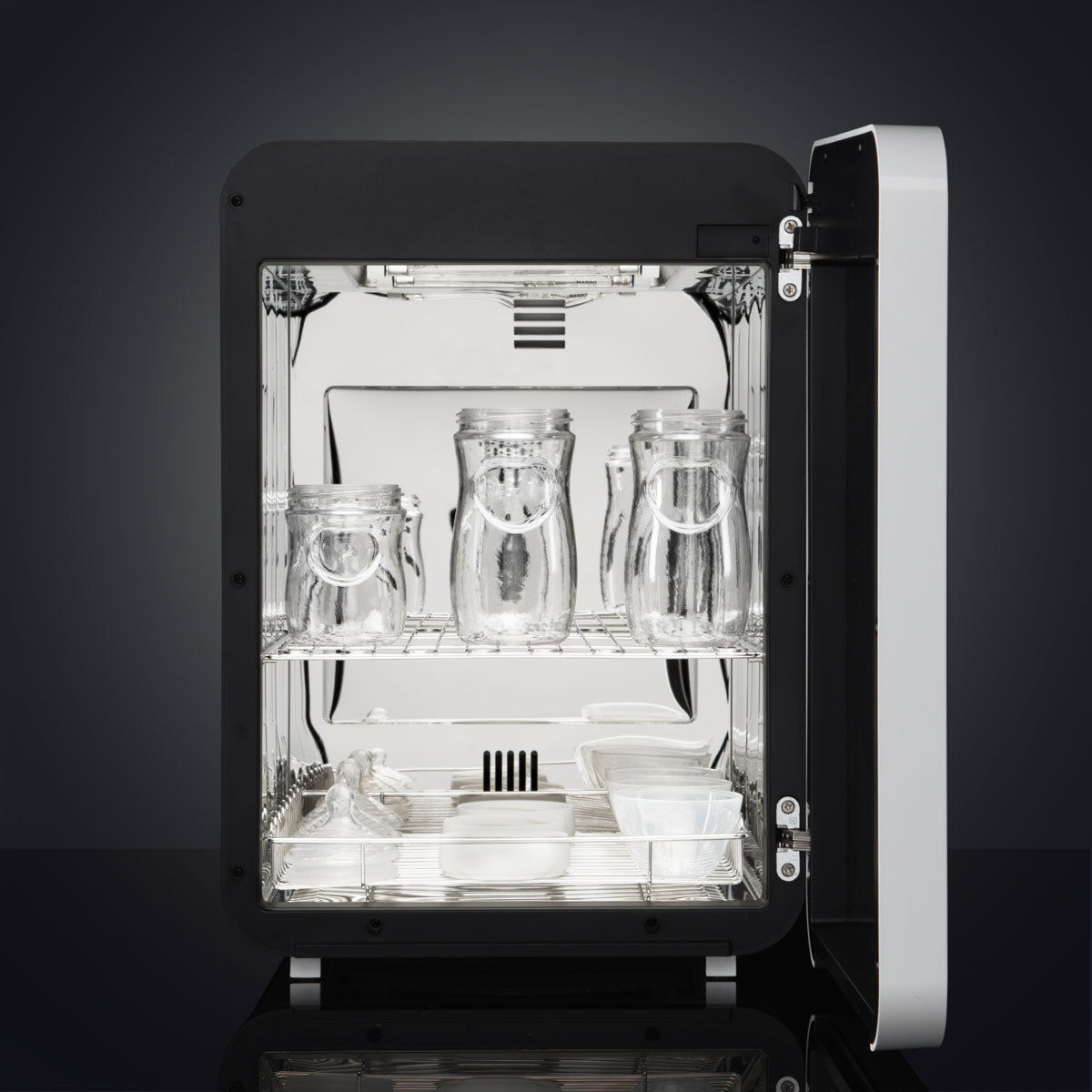 Storage does matter
Maintaining Sanitation
Optional storage setting activates UV-C after each open. This feature ensures all your objects remain sanitized throughout the day.

↠ Better than dishwasher, no relocation, no cross-contamination.
↠ 24/7 storage solution.
I use this Wabi sanitizer machine for almost everything. In these days it is definitely a must-have item. It is easy to use and works great.
When I come into the house, I throw my keys, iPhone, and mask in and turn it on. It's that easy. I love it!
I got this to sanitize my masks and things from my pockets. It is big enough to fit everything - keys, phone, sunglasses, badges, etc. I like the metal racks, which ensures the light will reach both sides of the object.
Effortlessly Simple
3 Simple Steps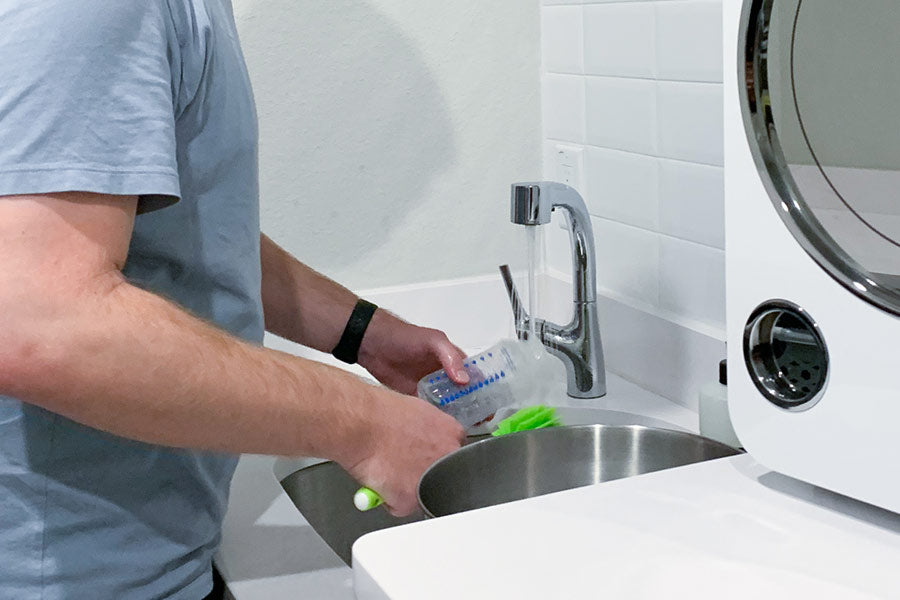 Pre-Clean
Remove surface debrise or grease by wash or wipe.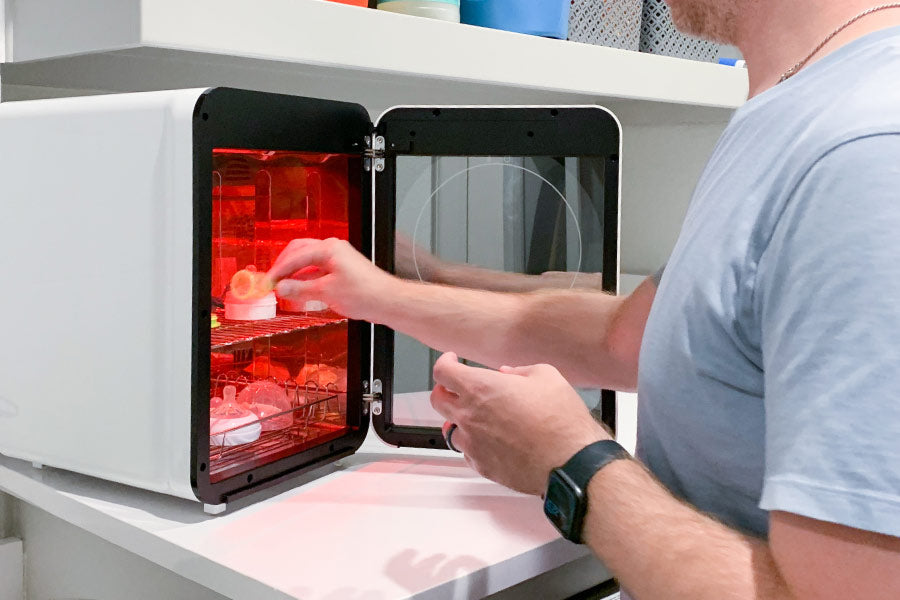 Load
Load all your objects inside the device.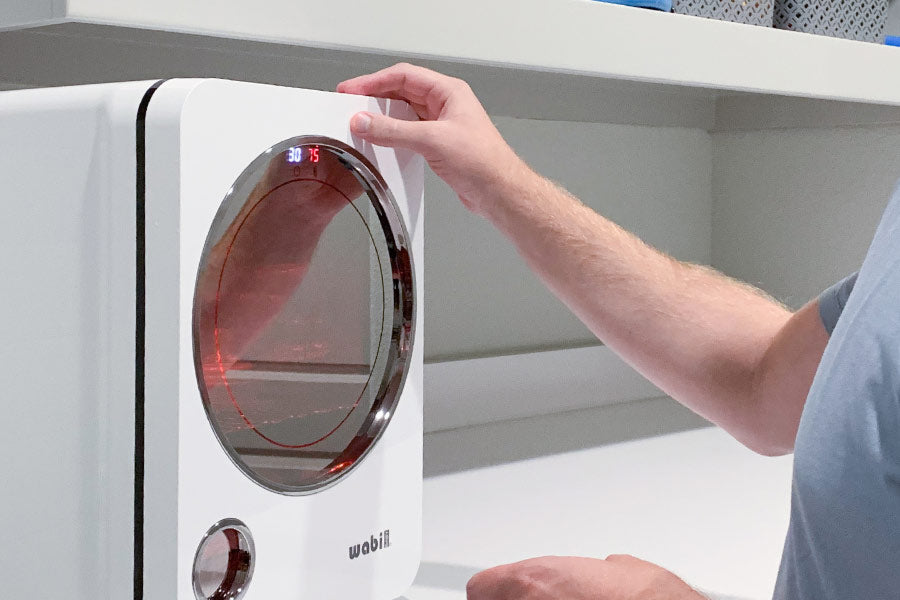 Select
Select an operation using the touch panel.
Seamlessly Intertwined
Unlimited Possibilities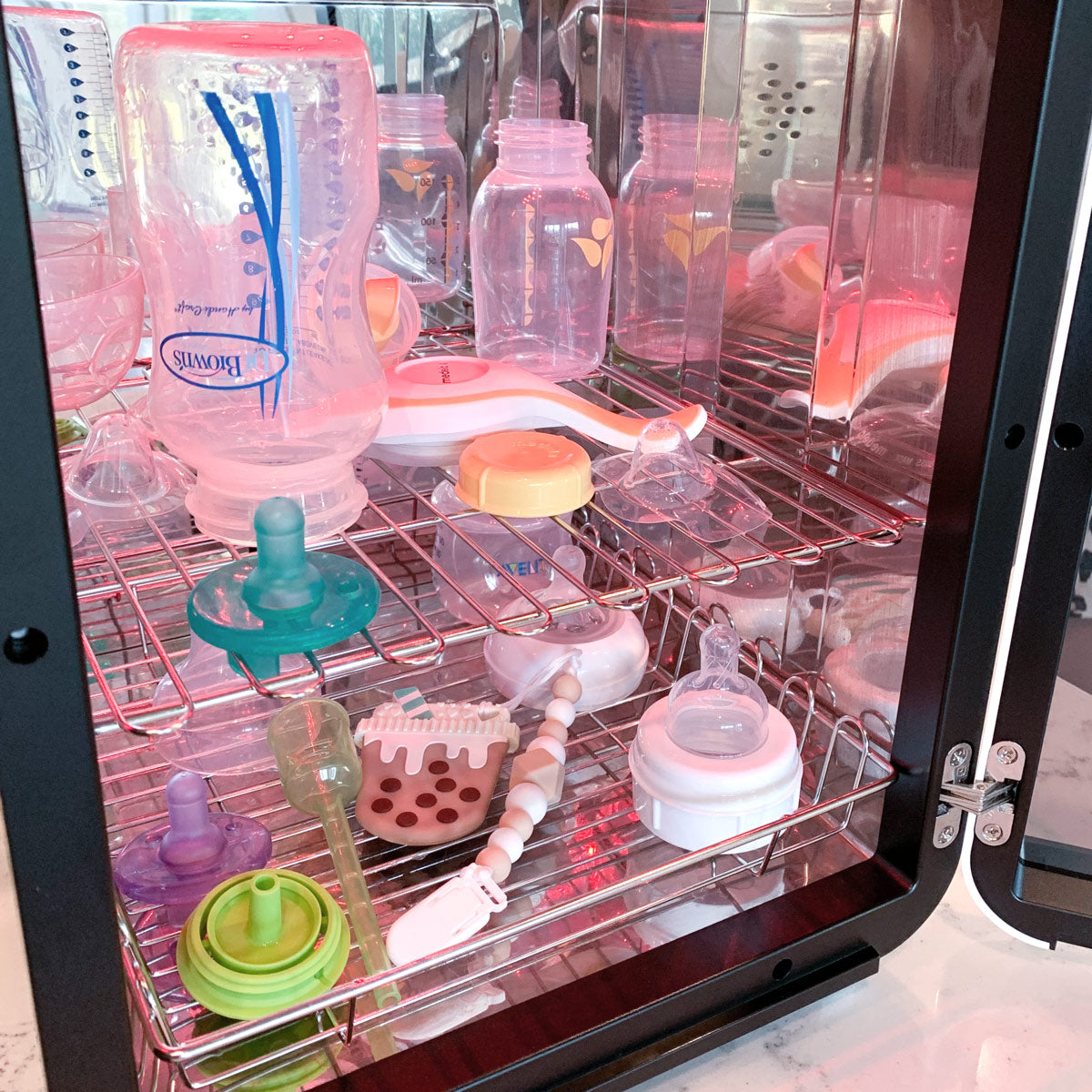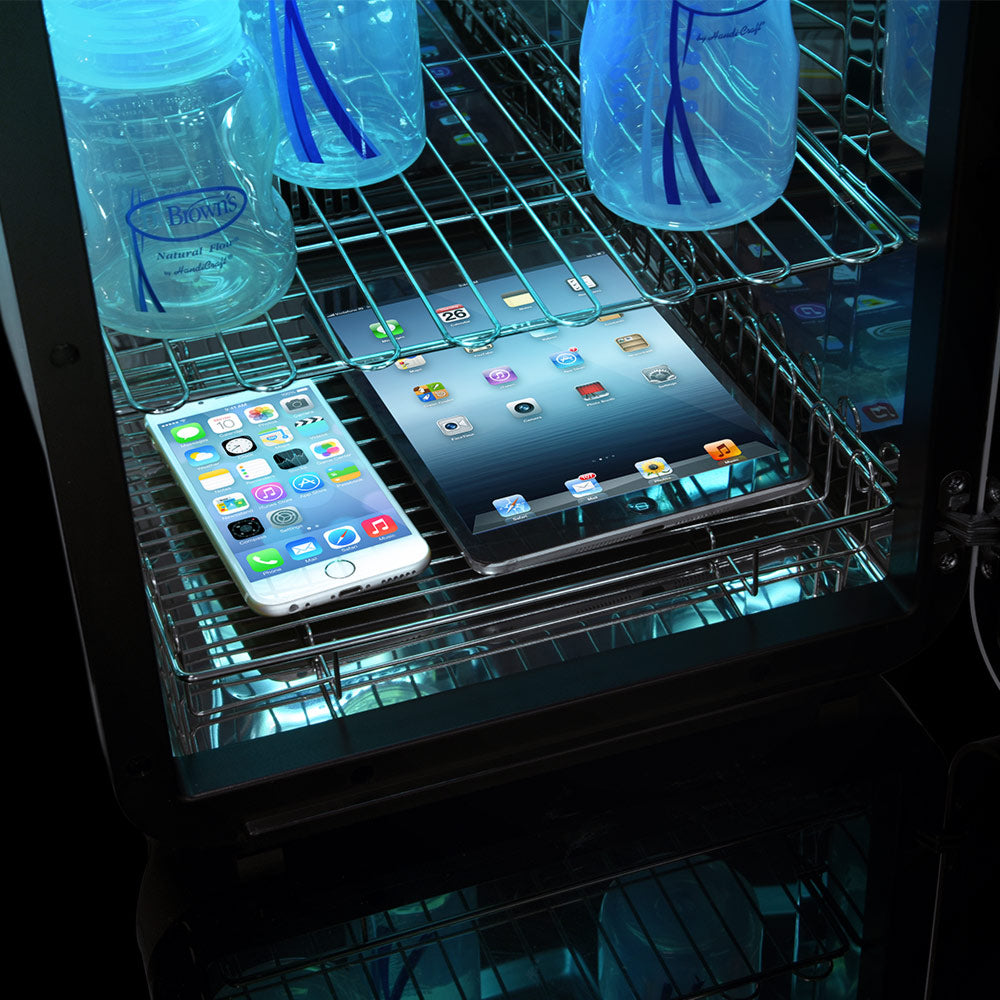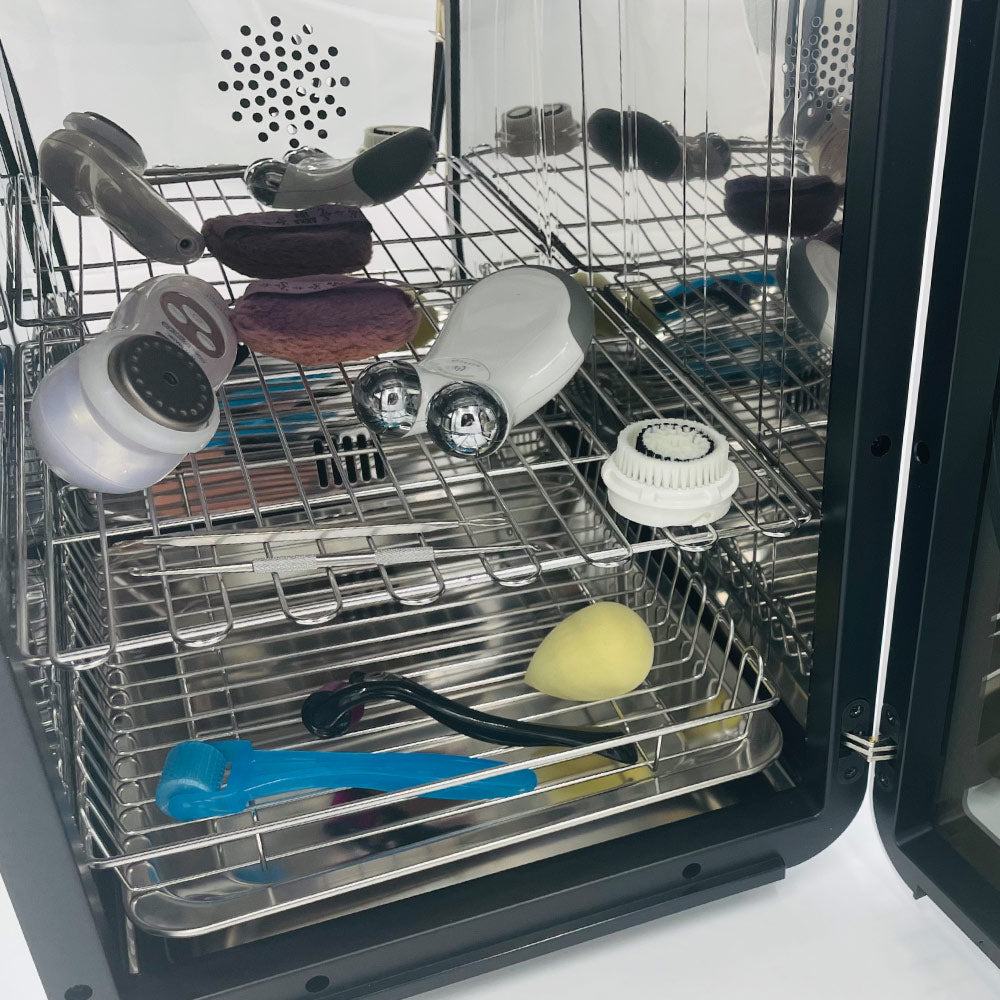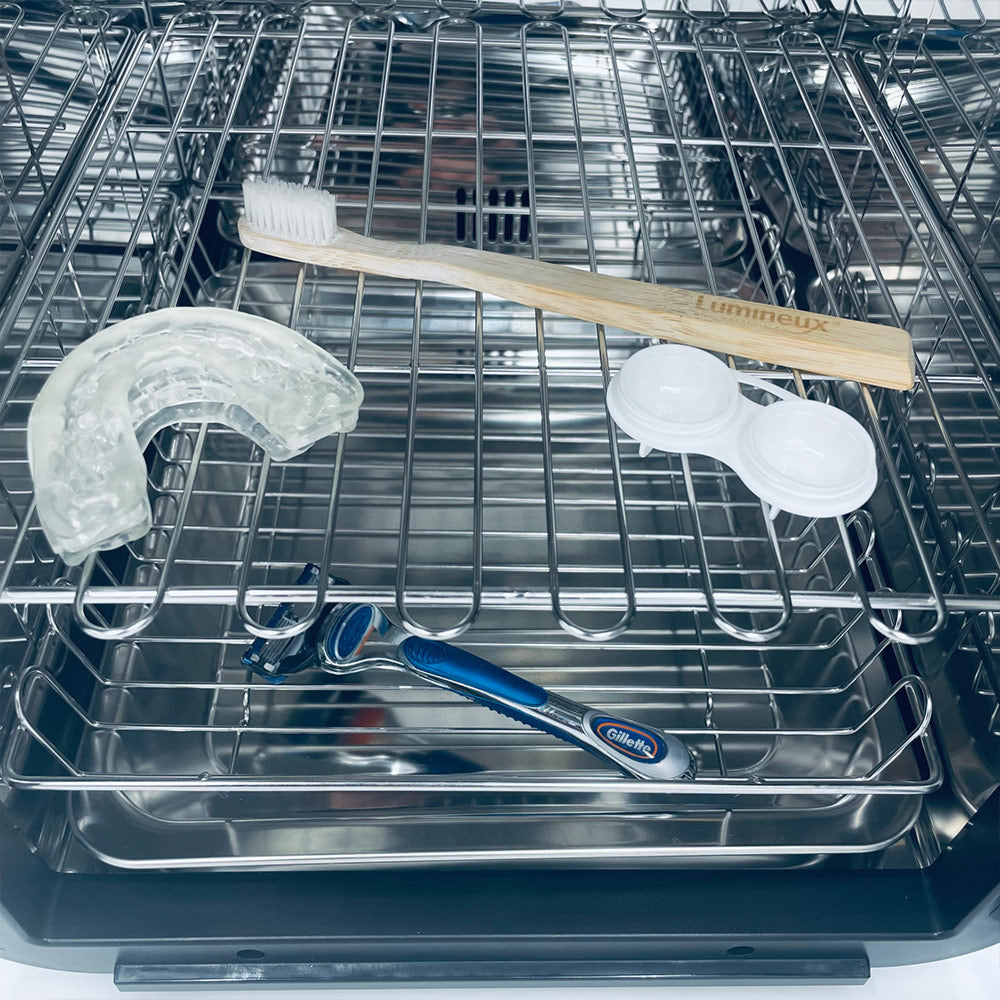 how do we compare?
See the differences
Not all UV-C sanitizers are created equally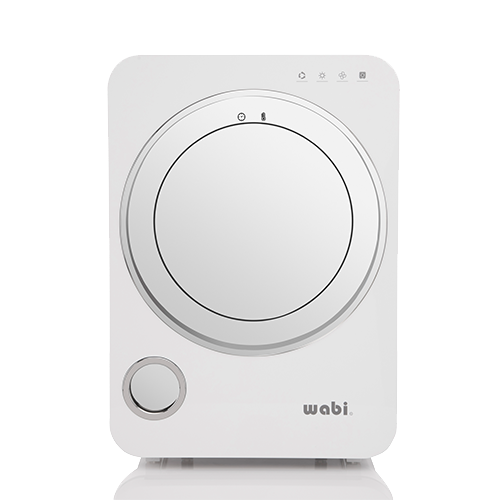 WABI®
Capacity:
✓ Fit up to 9 bottles
-----------------------------------
Microbial Testing:
✓ By 3rd party labs on household germs, coronavirus 229E, H1N1, and norovirus.
-----------------------------------
Company:
✓ A registered Texas-based company for over 10 years in business.
-----------------------------------
Product Development:
✓ Highly involved in product R&D stage.
-----------------------------------
Partners:
✓ Proud partner of many retailers, and hospitals.
-----------------------------------
Compliance:
✓ US FDA, EPA, ETL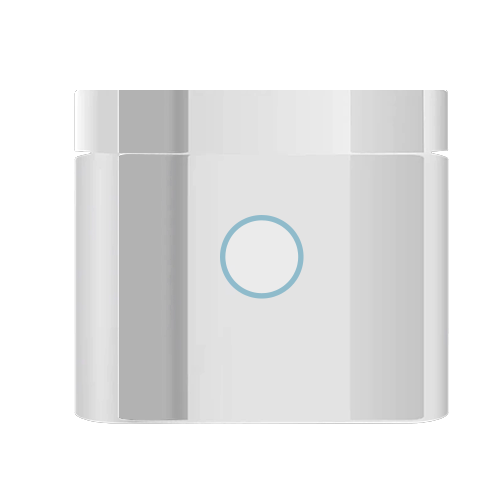 Others
Capacity:
Fit up to 6 bottles
-----------------------------------
Microbial Testing:
In house or not tested, often tested with one lab tray inside the device.
-----------------------------------
Company:
Mostly dropshipping companies from oversea or individual dropshippers.
-----------------------------------
Product Development:
Not involved. Buy and sell only.
-----------------------------------
Partners:
Not eligible for retail chains. Only selling on marketplaces.
-----------------------------------
Compliance:
None.
Just the FAQs
Wabi UV-C Sanitizer is registered with US FDA as general-purpose disinfections class one medical device for general hospital and personal use. In addition, we are also registered with US EPA and State EPA as Pesticide Devices as required.
We understand during the pandemic with the short supply of masks, there was a need for the desperate situation. Wabi don't recommend using our device on disposable medical mask and we stand by our beliefs.
Simple reasons are…
1. We can't make a product reusable when it was never meant to be reuse.
2. UV-C is designed to be used with hard surface, it doesn't work well with porous surface.
3. For best result of a mask, use a one-time use disposable mask.

There will be many products out there making such claims, Wabi never did and never will make such claim. We care, so we tell the truth.
Yes, they do. Although our device deliveries great disinfection results, it does not remove any foreign material (e.g., soil, and organic material) from the objects. The cleaning step is normally accomplished using water with detergents or wiping down with unwashable objects. According to CDC, thorough cleaning is required before high-level disinfection and sterilization because foreign materials that remain on the surfaces of the objects can interfere with the effectiveness of disinfection.
Learn More
Technical Specifications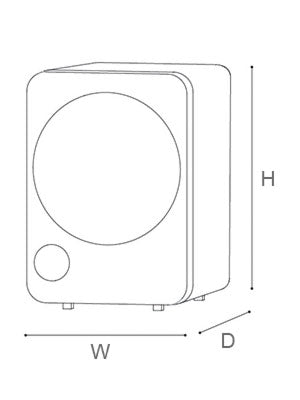 WEIGHT / DIMENSION
11.5" W x 14.5" D x 16.75" H
292mm W x 368mm D  x 426mm H
14 lb / 6.4 kg
MATERIALS
All FDA approved
ABS plastic
304 Stainless steel
CERTIFICATIONS
ETL US UL ANS 499
CSA C22.2 No. 64
FCC
FDA medical device for general hospital and personal use 
EPA pesticide device
MICROBIAL TEST
E. Coli – 99.9%
S. Aureus – 99.9%
Norovirus – None detected
H1N1 – None detected
Human Coronavirus 229E – 99.9%
IN THE BOX
1 x Main unit
1 x SUS wire shelf
1 x SUS wire basket
2 x Osram UV bulb (installed)
1 x AC power cord
1 x Quick start removable label
1 x Manual (EN/ES/FR)
operations
Auto - (Dry + UV) 30 / 50 / 70 min.
UV - 5 / 10 min.
Dry -  10 / 20 / 40 min.
Storage Mode - Activates 1 minute UV every 2 hours for a total of 4 cycles.
Temperature reading - °F / °C.
Remaining time display.
Warranty
ONE year limited warranty
CARE & MAINTENANCE
Interior/exterior: simple wipe down.
Filter: wash and rinse.
Optional Accessories
Drip Tray - easy removal cleaning solution.
Gadget holder - for more usage possiblities.
ELECTRIC RATING
120V, 60Hz, 80W
Interior Dimension:
10" W x 11.5" D x 12.75" H
254mm W x 292mm Dx 324mm H
*General Hospital and Personal use medical device made for general-purpose disinfections - a general-purpose disinfectant is a germicidal device intended to decontaminate noncritical equipment surfaces. A general-purpose disinfectant must be used after pre-cleaning that removes all surface debris or necessary high-level disinfection for the intended object.
#lovemywabi
Everyday Convenience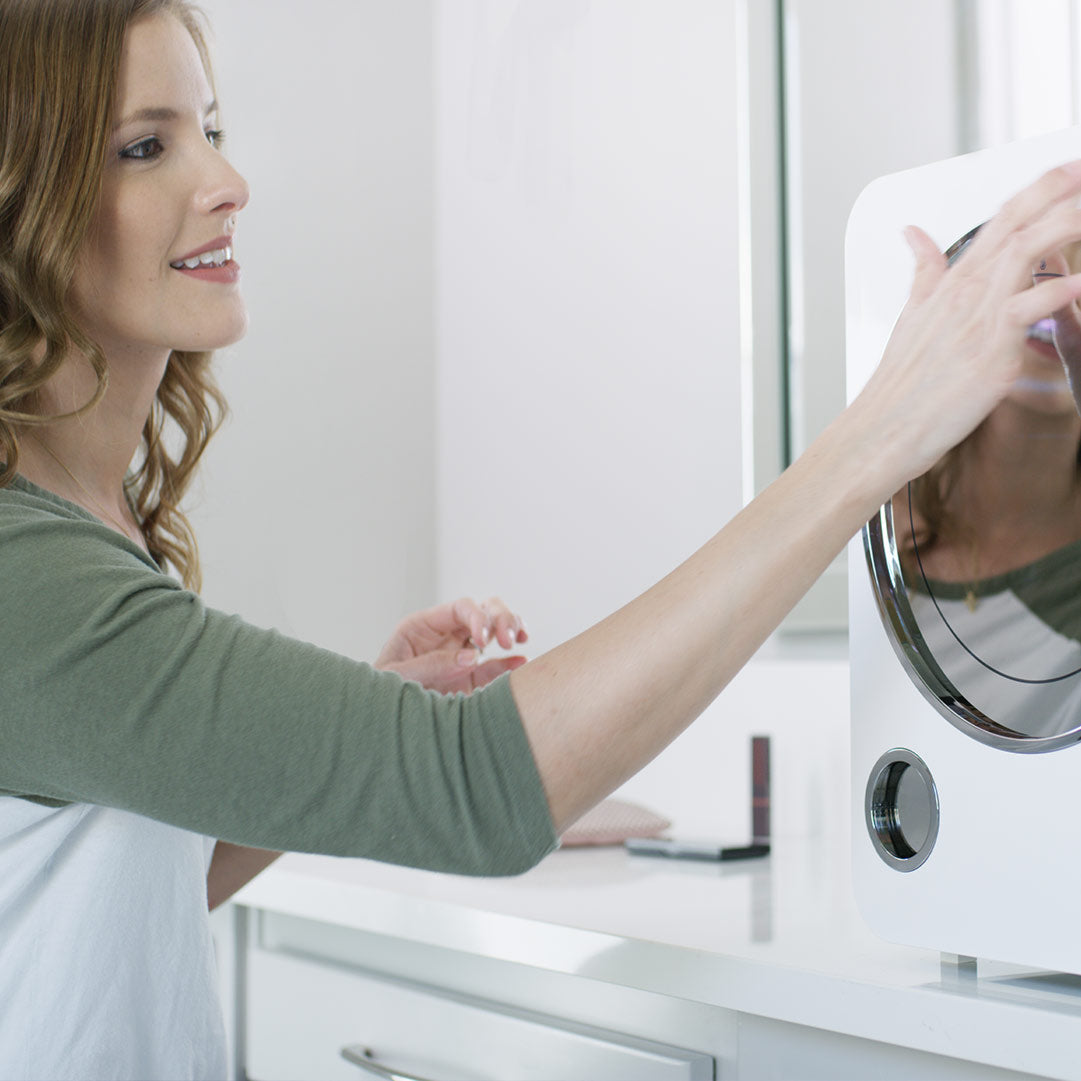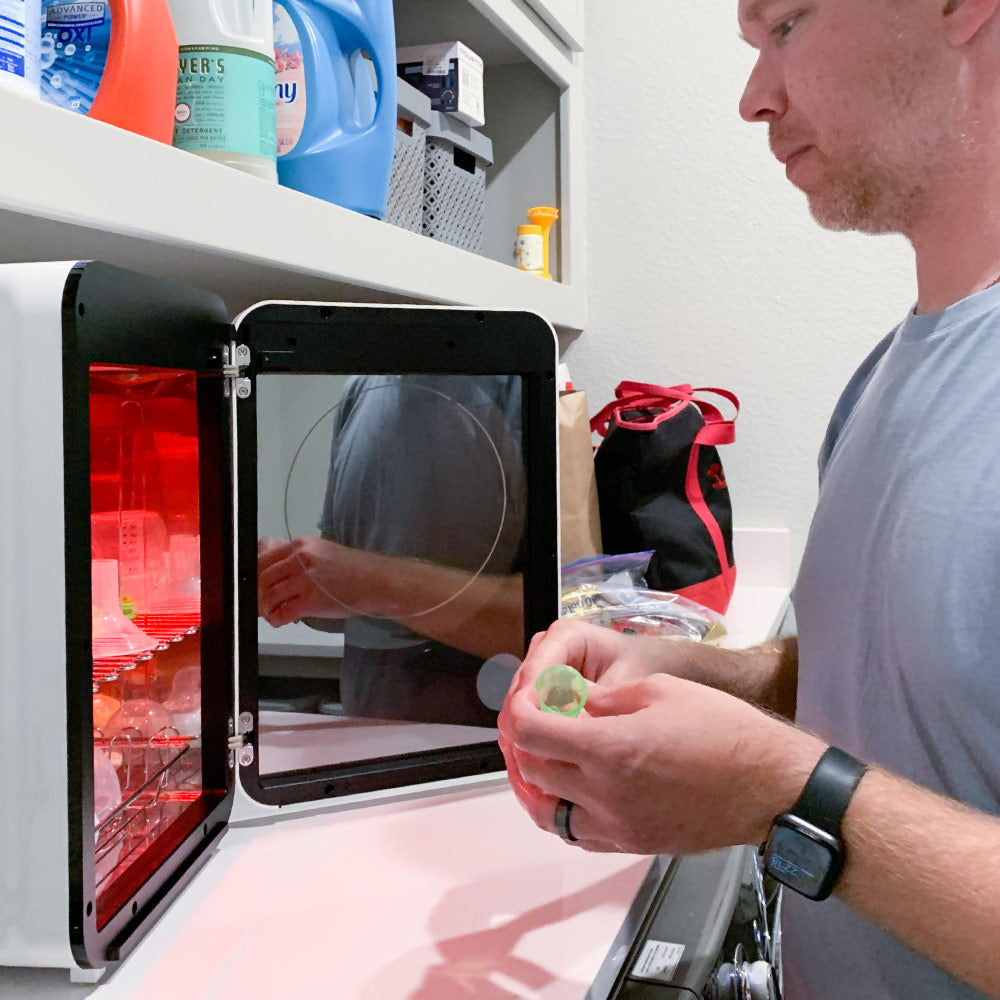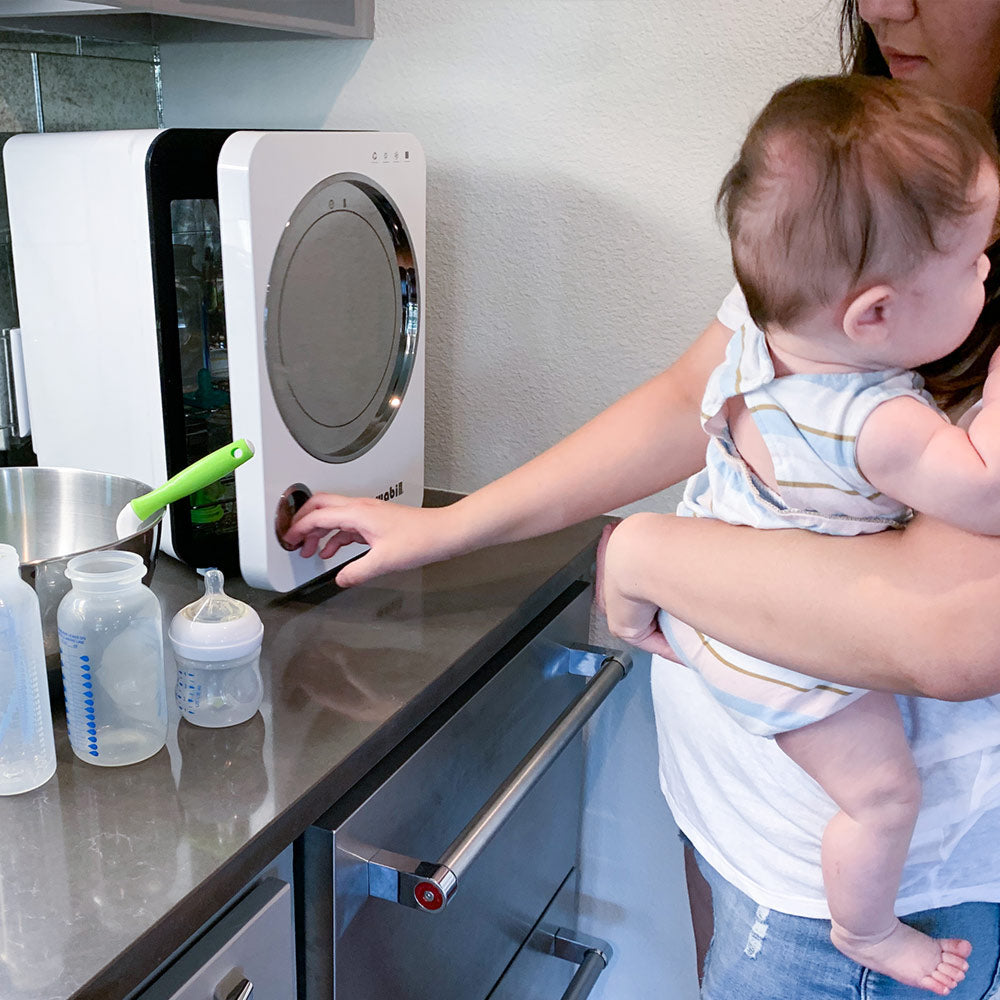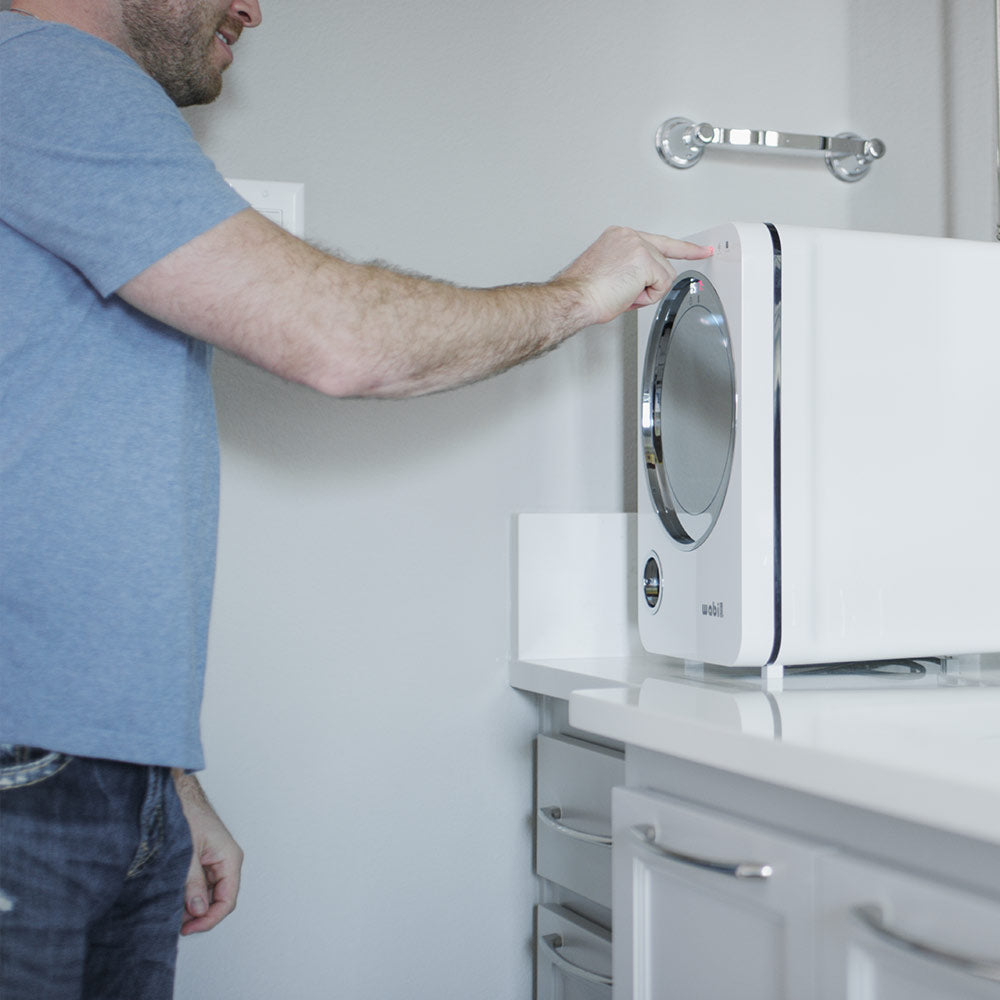 Customer Reviews
03/20/2023
Jessica S.

United States
Peace of mind and organization!
I've really enjoyed this addition to our routine of bottle feeding and pumping. Now I feel confident our items are clean for our baby.
03/16/2023
Aero W.

United States
Amazing
Very useful all the way through the toddler years. I recommend to all my mom friends. Worth the price for how efficient it makes washing, sterilizing, drying bottles and pump parts.
03/01/2023
Sean F.

United States
Love it
Perfect size to not take up to much space and big enough to put hand fulls of toys, pacifiers, phones, keys and anything else we need to clean!
03/01/2023
Shawna A.

United States
Best baby gift
My friends loved this as a baby shower gift and 2 years later are still using it daily.
03/01/2023
Hangjun X.

United States
Love it
We initially bough those steam ones but man… this one works so much faster and better! Now that our kid has grow out of bottles, we still use it to sanitize our phones keys glasses. It's just awesome.
03/01/2023
Jing L.

United States
03/01/2023
Jack Sims Jr.

United States
Kills Buggers
Unpacked it. Plugged it in. No kids but toothbrushes, hairbrushes, breathing tubes and etc! Even sterilize my baseball caps. Great! Highly recommend!
02/28/2023
Nicole L.

United States
Game Changer
My husband and I have 3 beautiful kids with our youngest two being twins! I remember how much washing and sterilizing I was doing of pumping and bottling supplies until I stumbled upon this product and sent it to my husband. We stewed over the decision and now looking back I wish we would've jumped on it immediately. Of the gazillion baby gadgets and products/equipment that we have tried this honestly ranks #1 in my opinion. I've encouraged others to buy it and they also feel the same. Plus you can use it for so much more than drying and sterilizing baby supplies. Money well spent, thank you Wabi Baby for this brilliant invention!
02/28/2023
Marisela C.

United States
Get it!
A life saver! Makes life a ton easier! It works great! It was an investment but once I was done pumping and done with bottles I sold it on Facebook marketplace
01/03/2023
Chelsea P.

United States
Great product
Loved using the wabi as our sterilizer. It fit so much and helped us feel safe about what we were giving out baby
08/04/2022
Debra S.

United States
NO customer service!!!!!
Terrible!!!! Attempted to contact company when initially purchased. Impossible!!!! Had questions regarding sanitation It's now stored in garage…. Do not purchase!!!!!
08/03/2022
Kristina B.

United States
Gamechanger
The price on this is steep, but once I had a premature baby it felt like a necessity - and it absolutely is, it has made washing and sanitizing bottles, pump parts, teethers, everything, so much easier, the peace of mind is worth every penny. Time saver and guarantee everything is clean and dry, he is almost 2 now and it is still going strong with no issues.
07/03/2022
Kazuko I.

United States
Wabi sterilizer
This came in clutch!
06/21/2022
Cortney R.

United States
Amazing for baby & work
We bought this at the start of the pandemic- primary to disinfect my work equipment (I worked on a COVID unit- remember you couldn't get alcohol sanitizer or disinfecting wipes anywhere). It was a literal life saver. We bought 2— and still use the second to dry toddlers sippie cups, etc
06/20/2022
Jack S.

United States
Great sterilizer
No baby but wife has a night time breather with tubes, I stick my brushes and baseball caps, toothbrush, the dog and whatever else is handy and lying around in reach and needs sanitizing. Keep it in the bedroom. Fast 5 minute for my stuff that doesn't need drying. I meant dog collars :)
06/19/2022
Shinduk L.

United States
excellent!
convenient and easy to operate