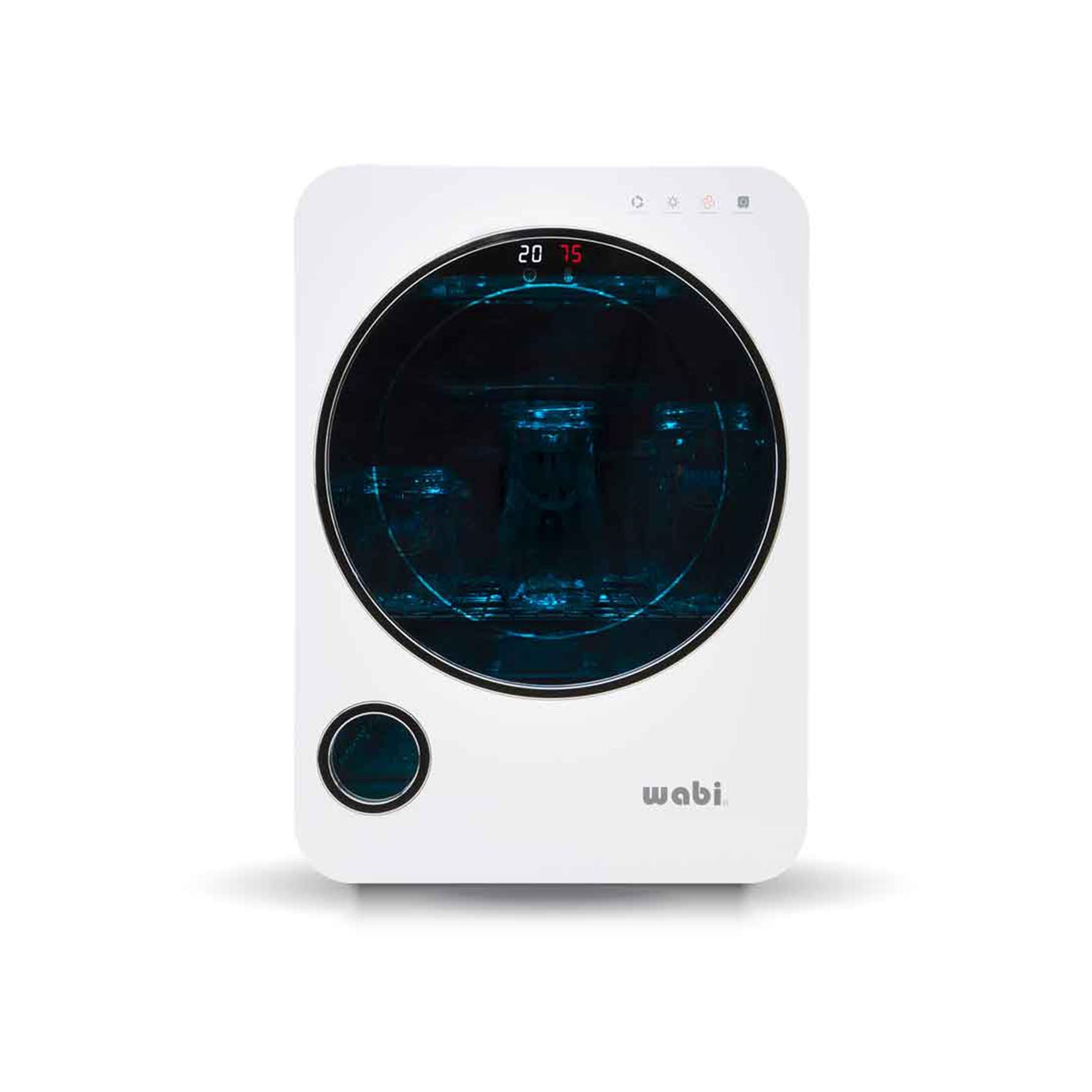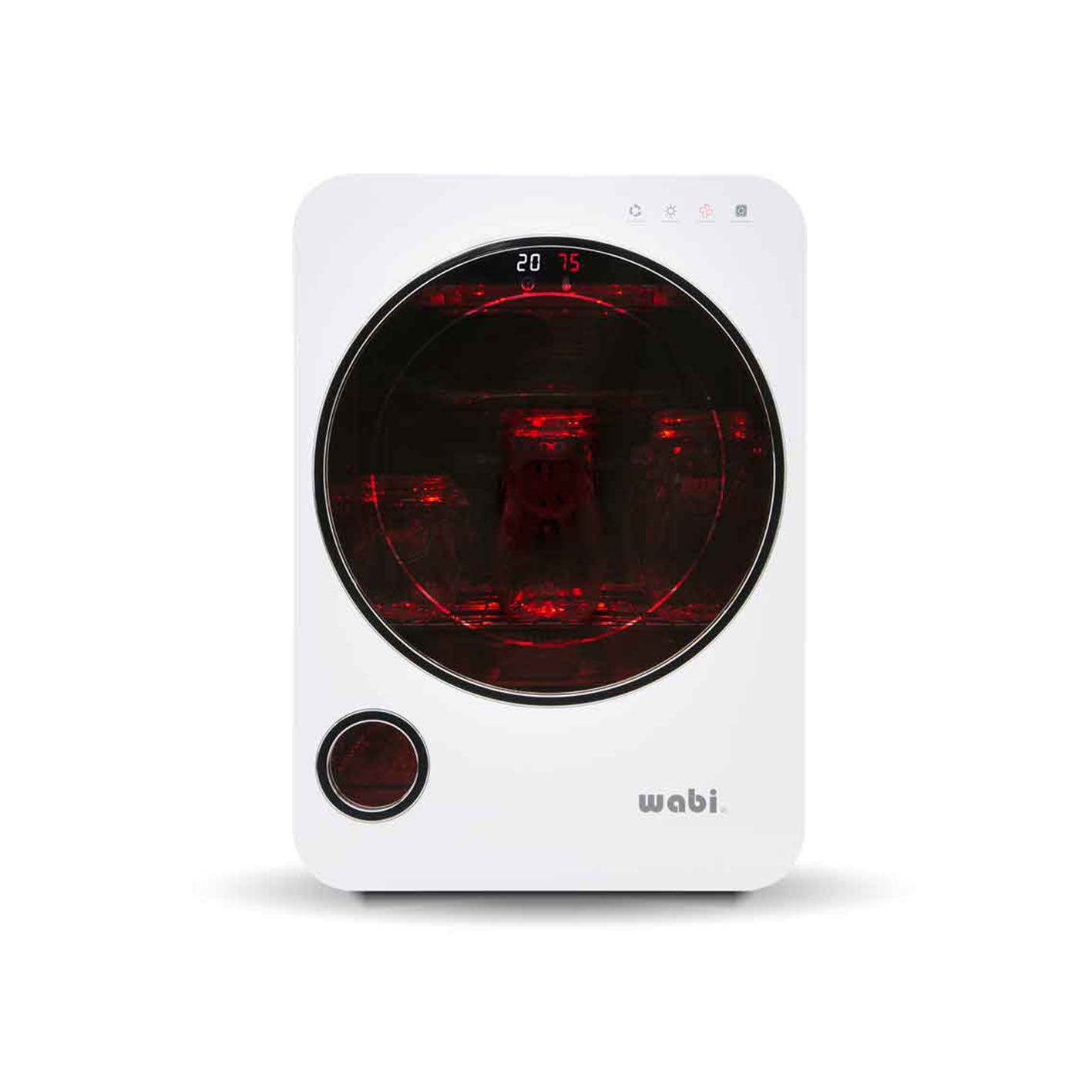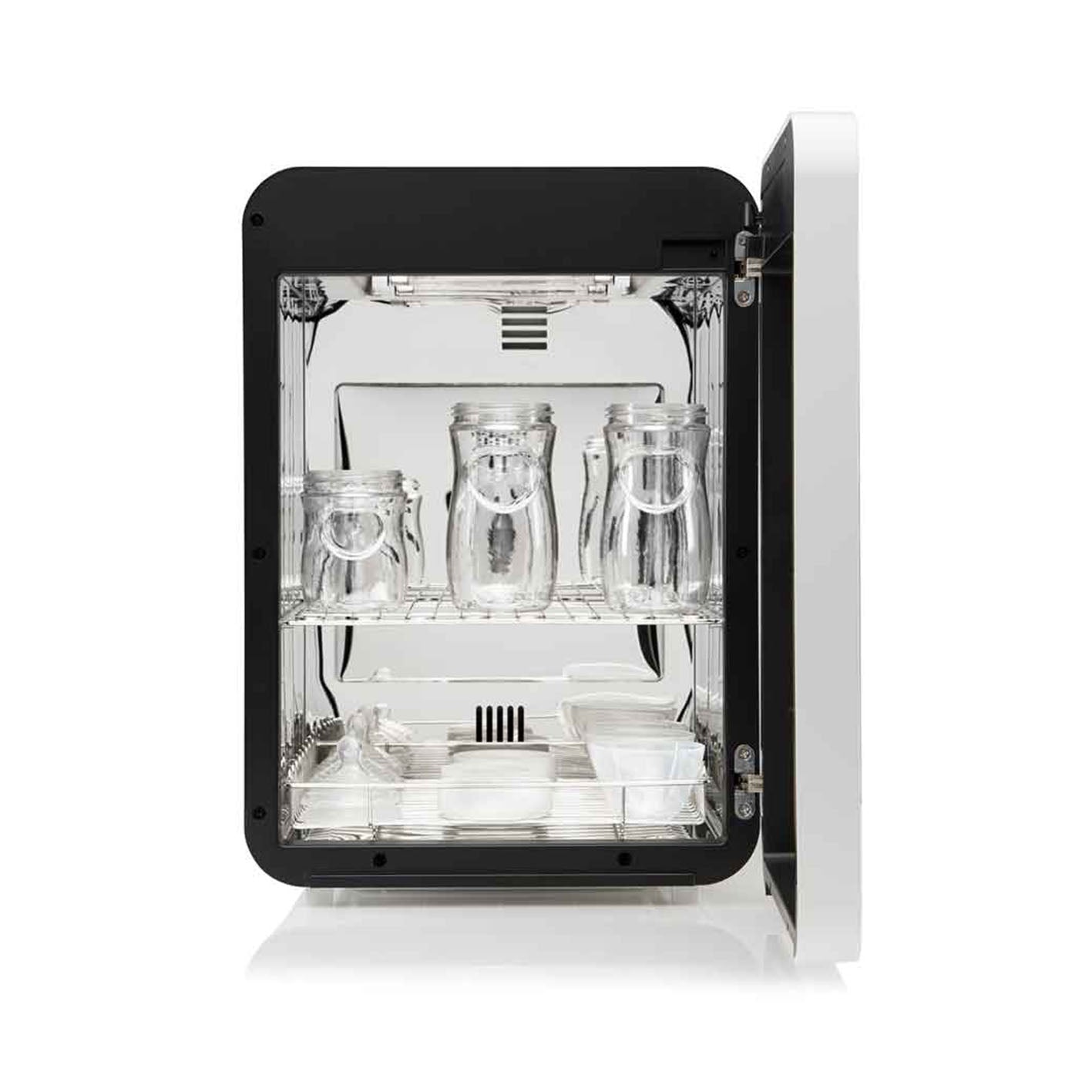 UV-C Sanitizer Sterilizer & Dryer
---
!!!! DISCONTINUED !!!!

Thanks to your fantastic support, we've had an incredible 8-year journey with this UV Sanitizer! As part of the global initiative to bid farewell to mercury-containing UV bulbs, we're stepping up our game. It's time for an exciting upgrade!

Why you'll love it:
The WABI® UV-C Sanitizer & Dryer is the best patent-pending hard surface device that provides a disinfection solution resulting in greater efficiency in less time.
3-in-1: Sanitizer + dryer + Storage unit.
One button does it all.
BPA Free + FDA-approved materials.
Patent-pending venting system.
Dual OSRAM® UV-C bulbs.
99.9% effective result from 3rd party lab testing.

Shop from our partners:

• Dimensions (L x W x H): 5.6 in X 5.6 in X 3.2 in
• Weight: 1.1 lbs
• Volume Settings: 10
• Volume Range (measured at device): 46 - 87 dBA
• Wall Plug: Type A (U.S.) 100-240V, UL Certified
• Cord Length: 6 ft
• U.S. Patent No.: US 10,510,335 B2

detail spec
Certification & Compliance

Share some content to your customers about your products.

see details
Warranty + Shipping + Return

One-Year Limited Warranty.

Free ground shipping for lower 48 US states only.

Satisfaction Guaranteed: Returns Accepted within 30 Days of Purchase for UNUSED WABI Products.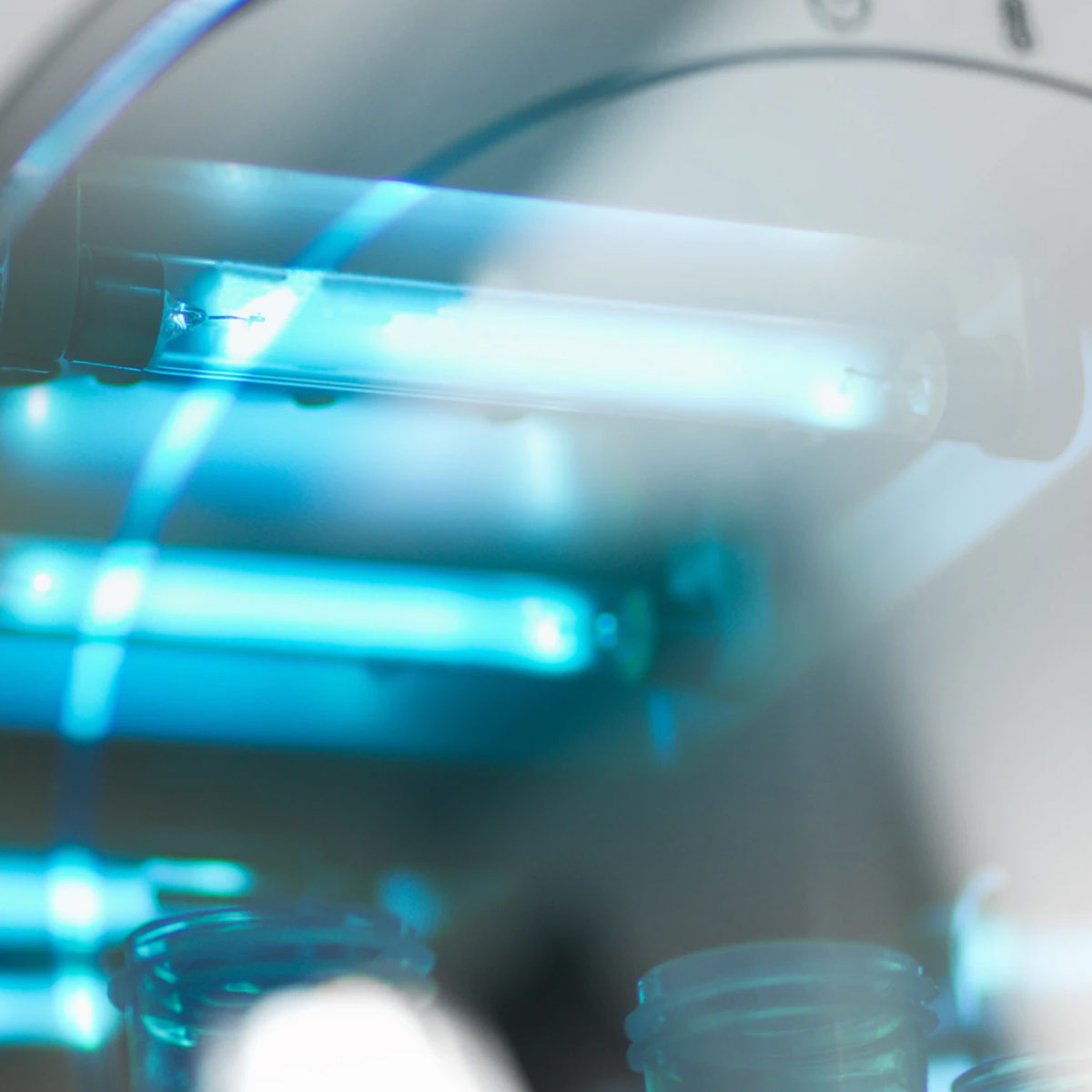 TWO BULBS ARE BETTER THAN ONE
Kills 99.9% Of Household Germs
Third-party lab tested to kill 99.9% of household germs effectively when use as directed.

↠ Dual UV-C bulb for 2X the power.
↠ Tested for household germs, Coronavirus 229E*, H1N1, & Norovirus.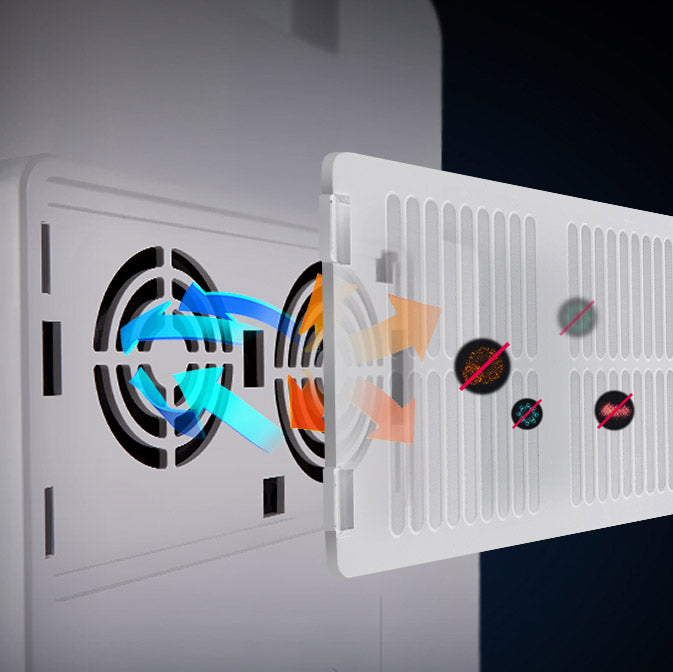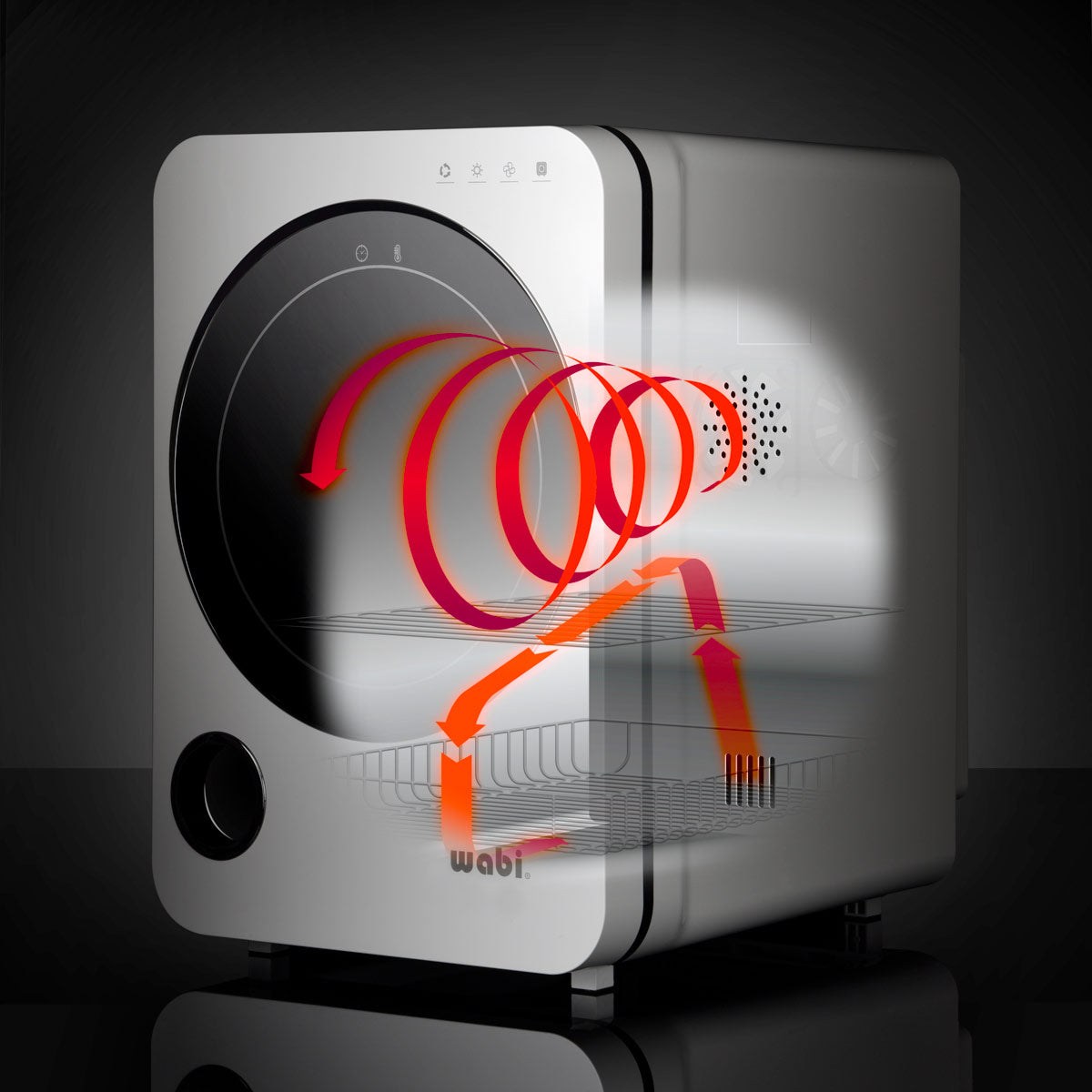 OPTIMIZED
Low Temperature Drying
PTC heating technology precisely keeps the drying temperature lower to prolong the life cycle of your objects.
FAST DRYING
We Dry Very Hard
Patented technology for 3X more efficient drying and cleaner airflow with our dual ventilation system. It also eliminates the typical odor issue you see with UV-C sanitizer.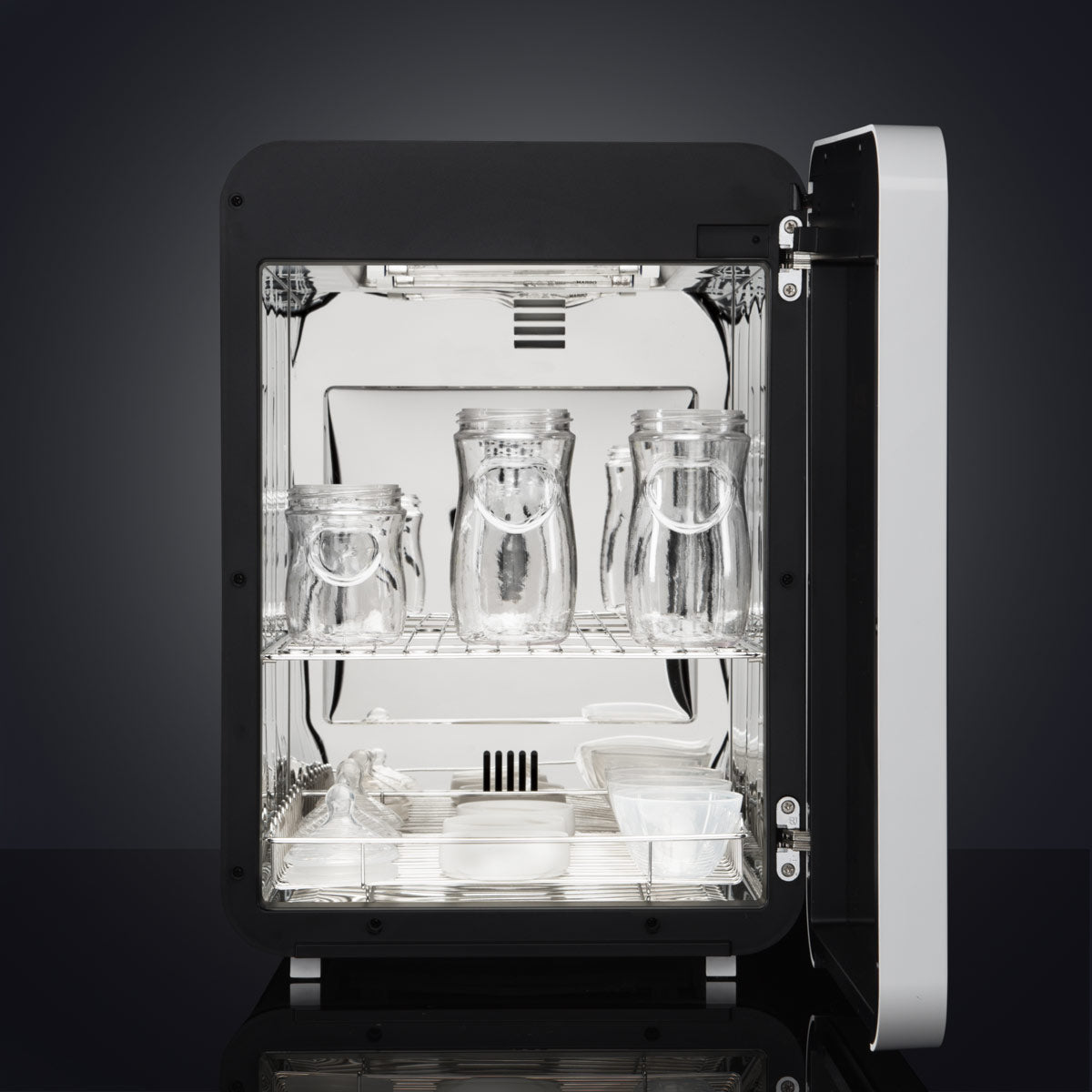 STORAGE DOES MATTER
Maintaining Sanitation
An optional storage setting ensures all your objects remain sanitized throughout the day.

↠ Better than a dishwasher, no relocation, no cross-contamination.
↠ 24/7 storage solution.
MORE FEATURES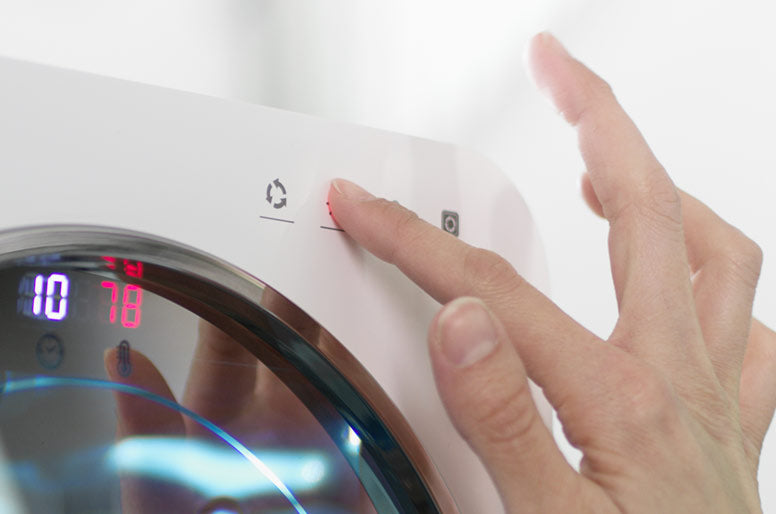 TOUCH CONTROL
The easy-to-use touch screen controller, also for easy device cleaning.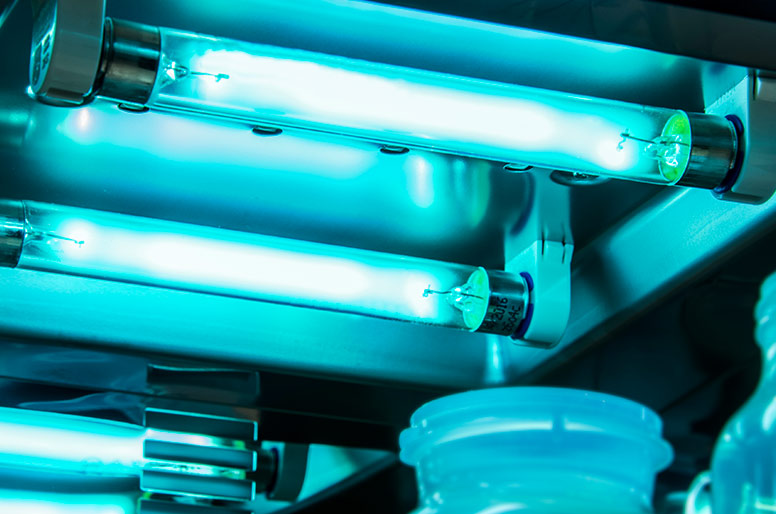 NO OZONE UV-C BULBS
No ozone producing UV-C bulbs made by Osram® in Italy.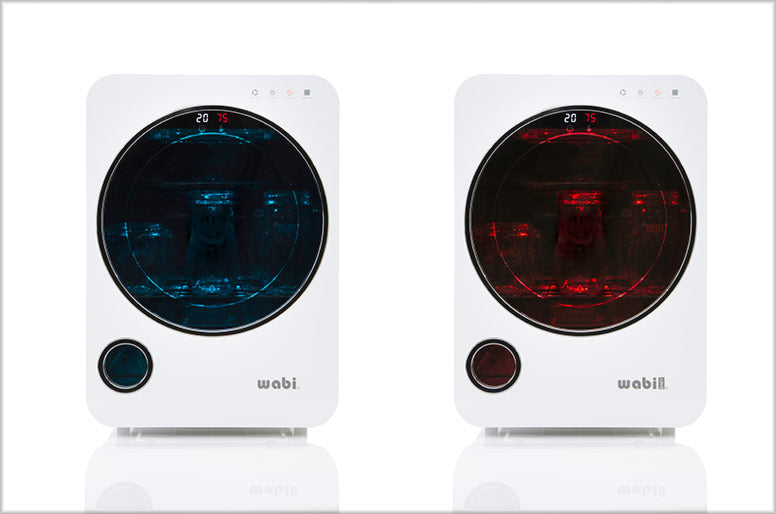 EASY TO SEE GLASS WINDOW
Not transparent to ultraviolet light and allows for easy operation visibility.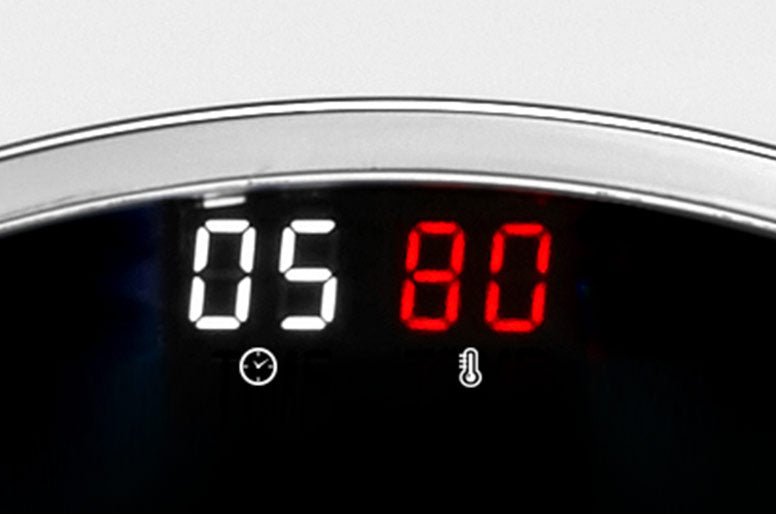 TIME & TEMP. DISPLAY
Temp. Units can also be interchanged between Celsius and Fahrenheit.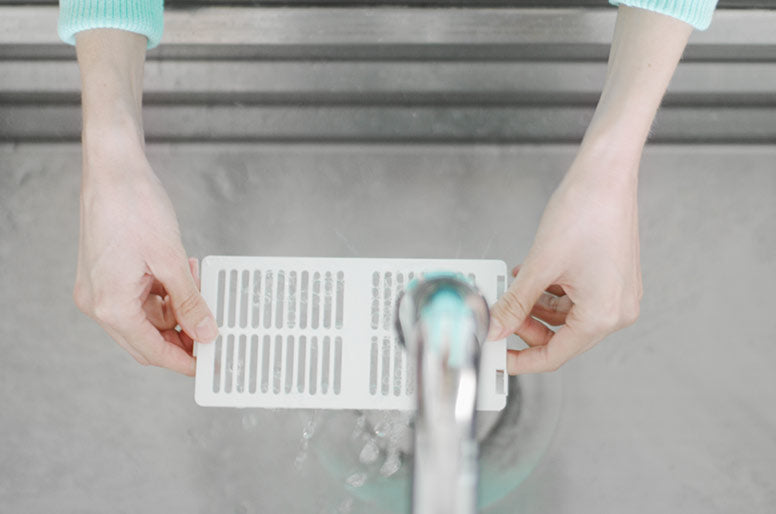 WASH & RINSE FILTER
No replacement filter, just wash and rinse for easy device maintenance.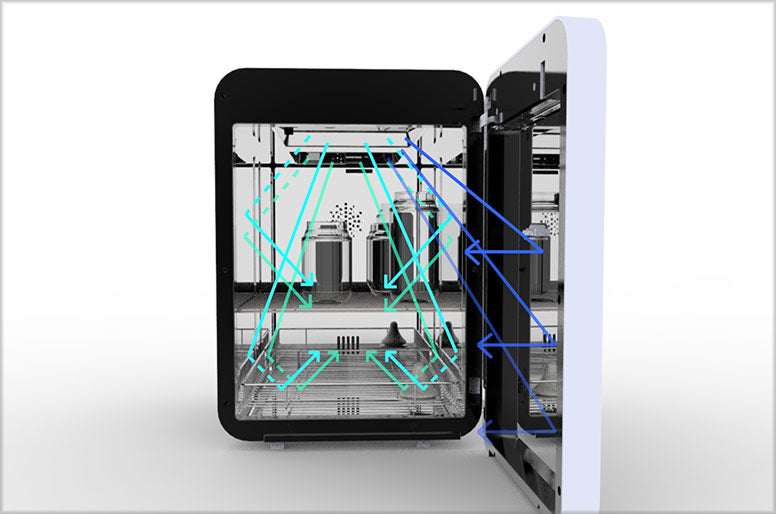 HIGH REFLECTIVE INTERIOR
Designed to direct UV-C energy on more surfaces of the objects.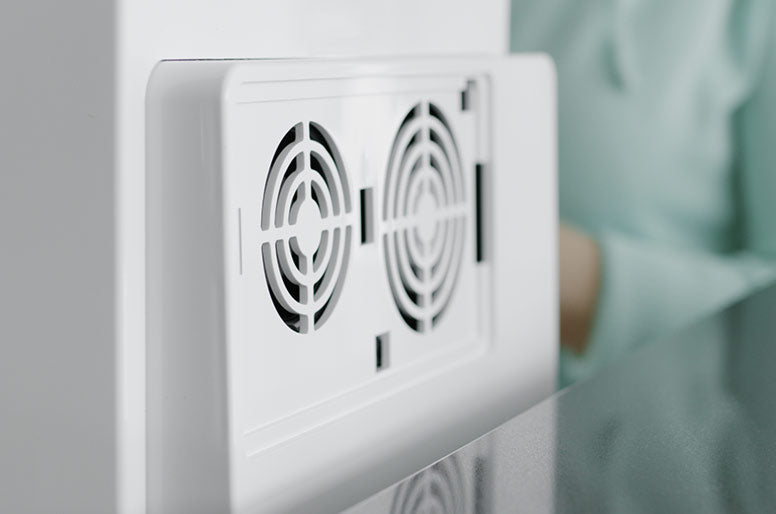 LESS UV-C ODOR
Our dual fan and venting system decrease the typical UV-C odor by 60%.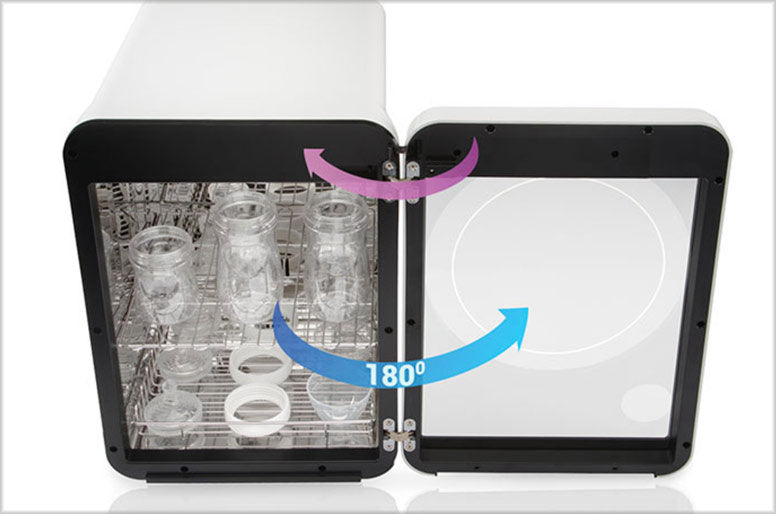 WIDE OPEN & MAGNET CLOSURE
Wide opening and magnet closure for simple and easy access.
EFFORTLESSLY SIMPLE
3 Simple Steps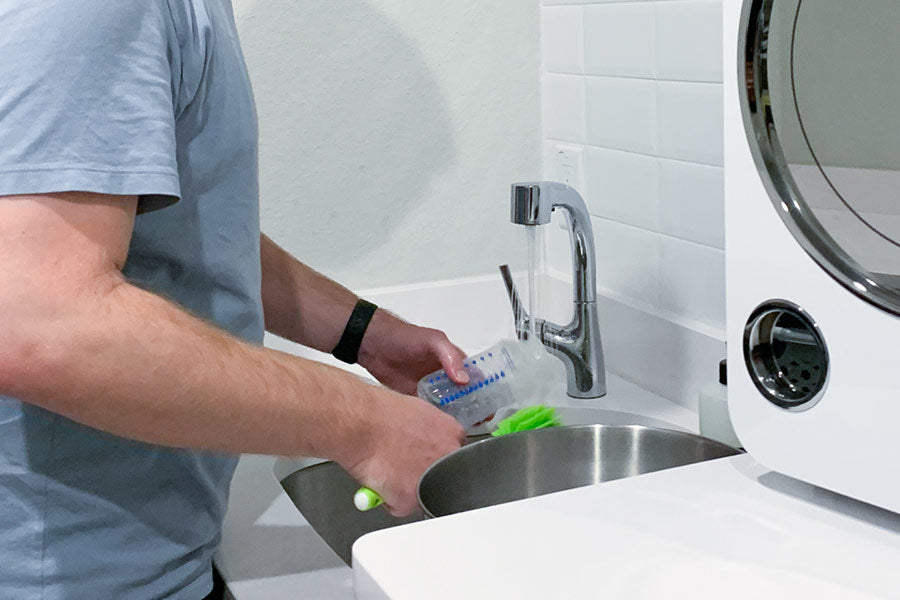 Pre-Clean
Remove surface debrise or grease by wash or wipe.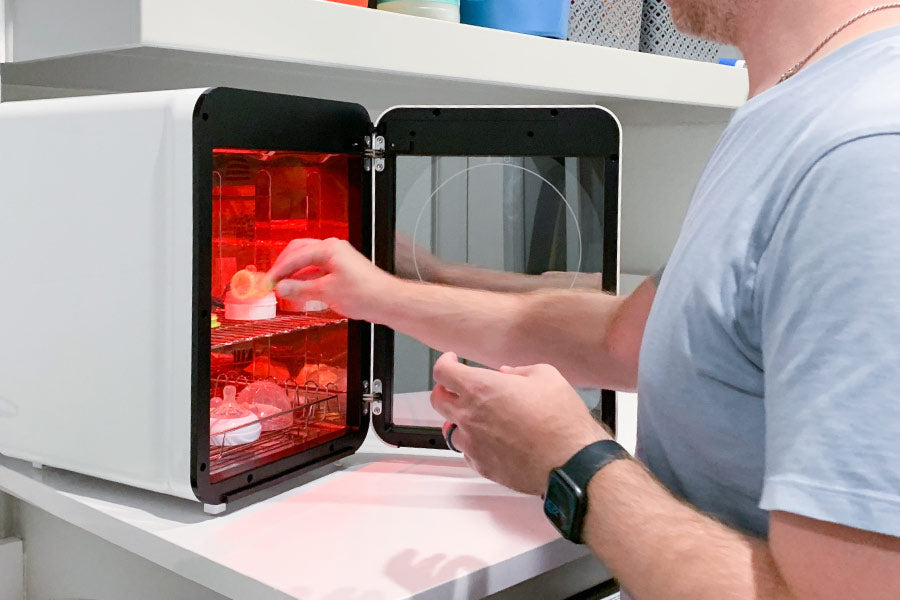 Load
Load all your objects inside the device.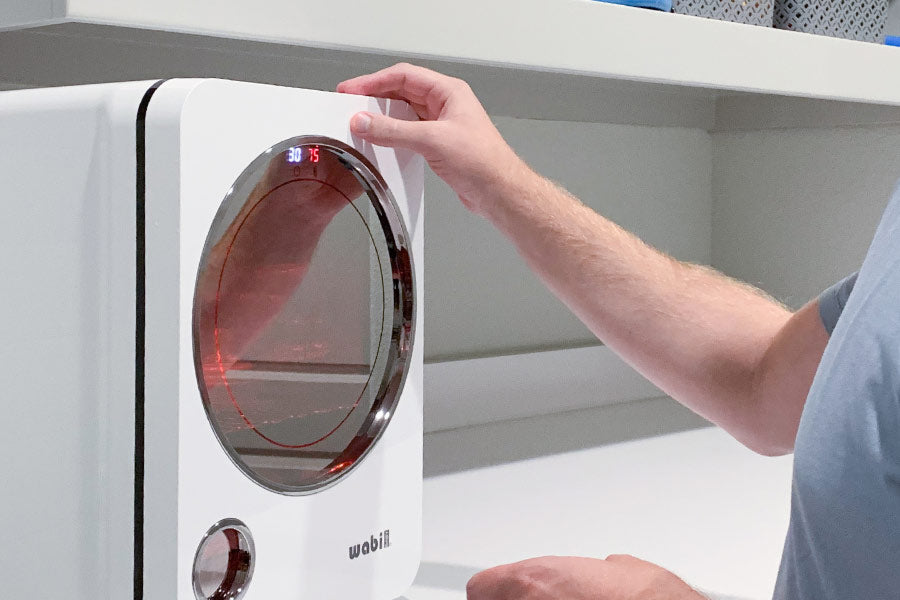 Select a Function
Select an operation using the touch panel.
SEAMLESSLY INTERTWINED
Unlimited Possibilities
Easy to use, I love the look, and I feel safe using this product.
I can attest to is that Wabi is absolutely easy to use and makes my life easier. I have been using it to sterilize my baby's bottles/pacifiers and my breast pump. No problems have come up so far!
I Absolutley love it! Looks perfect in the kitchen and everyone is constantly asking what it is and when I tell them they are stunned. So easy to use, very light weight. Just love it!
Customer Reviews
11/07/2023
Robin Y.

United States
great
bit expensive but easy to use and set up, love it!
03/20/2023
Jessica S.

United States
Peace of mind and organization!
I've really enjoyed this addition to our routine of bottle feeding and pumping. Now I feel confident our items are clean for our baby.
03/16/2023
Aero W.

United States
Amazing
Very useful all the way through the toddler years. I recommend to all my mom friends. Worth the price for how efficient it makes washing, sterilizing, drying bottles and pump parts.
03/01/2023
Sean F.

United States
Love it
Perfect size to not take up to much space and big enough to put hand fulls of toys, pacifiers, phones, keys and anything else we need to clean!
03/01/2023
Shawna A.

United States
Best baby gift
My friends loved this as a baby shower gift and 2 years later are still using it daily.
03/01/2023
Hangjun X.

United States
Love it
We initially bough those steam ones but man… this one works so much faster and better! Now that our kid has grow out of bottles, we still use it to sanitize our phones keys glasses. It's just awesome.
03/01/2023
Jing L.

United States
03/01/2023
Jack Sims Jr.

United States
Kills Buggers
Unpacked it. Plugged it in. No kids but toothbrushes, hairbrushes, breathing tubes and etc! Even sterilize my baseball caps. Great! Highly recommend!
02/28/2023
Nicole L.

United States
Game Changer
My husband and I have 3 beautiful kids with our youngest two being twins! I remember how much washing and sterilizing I was doing of pumping and bottling supplies until I stumbled upon this product and sent it to my husband. We stewed over the decision and now looking back I wish we would've jumped on it immediately. Of the gazillion baby gadgets and products/equipment that we have tried this honestly ranks #1 in my opinion. I've encouraged others to buy it and they also feel the same. Plus you can use it for so much more than drying and sterilizing baby supplies. Money well spent, thank you Wabi Baby for this brilliant invention!
02/28/2023
Marisela C.

United States
Get it!
A life saver! Makes life a ton easier! It works great! It was an investment but once I was done pumping and done with bottles I sold it on Facebook marketplace
01/03/2023
Chelsea P.

United States
Great product
Loved using the wabi as our sterilizer. It fit so much and helped us feel safe about what we were giving out baby
08/04/2022
Debra S.

United States
NO customer service!!!!!
Terrible!!!! Attempted to contact company when initially purchased. Impossible!!!! Had questions regarding sanitation It's now stored in garage…. Do not purchase!!!!!
08/03/2022
Kristina B.

United States
Gamechanger
The price on this is steep, but once I had a premature baby it felt like a necessity - and it absolutely is, it has made washing and sanitizing bottles, pump parts, teethers, everything, so much easier, the peace of mind is worth every penny. Time saver and guarantee everything is clean and dry, he is almost 2 now and it is still going strong with no issues.
07/03/2022
Kazuko I.

United States
Wabi sterilizer
This came in clutch!
06/21/2022
Cortney R.

United States
Amazing for baby & work
We bought this at the start of the pandemic- primary to disinfect my work equipment (I worked on a COVID unit- remember you couldn't get alcohol sanitizer or disinfecting wipes anywhere). It was a literal life saver. We bought 2— and still use the second to dry toddlers sippie cups, etc
06/20/2022
Jack S.

United States
Great sterilizer
No baby but wife has a night time breather with tubes, I stick my brushes and baseball caps, toothbrush, the dog and whatever else is handy and lying around in reach and needs sanitizing. Keep it in the bedroom. Fast 5 minute for my stuff that doesn't need drying. I meant dog collars :)
Can't decide?
Not sure which one to choose? We selected our most popular sanitizers. Compare them and choose the best model for your needs.
Compare