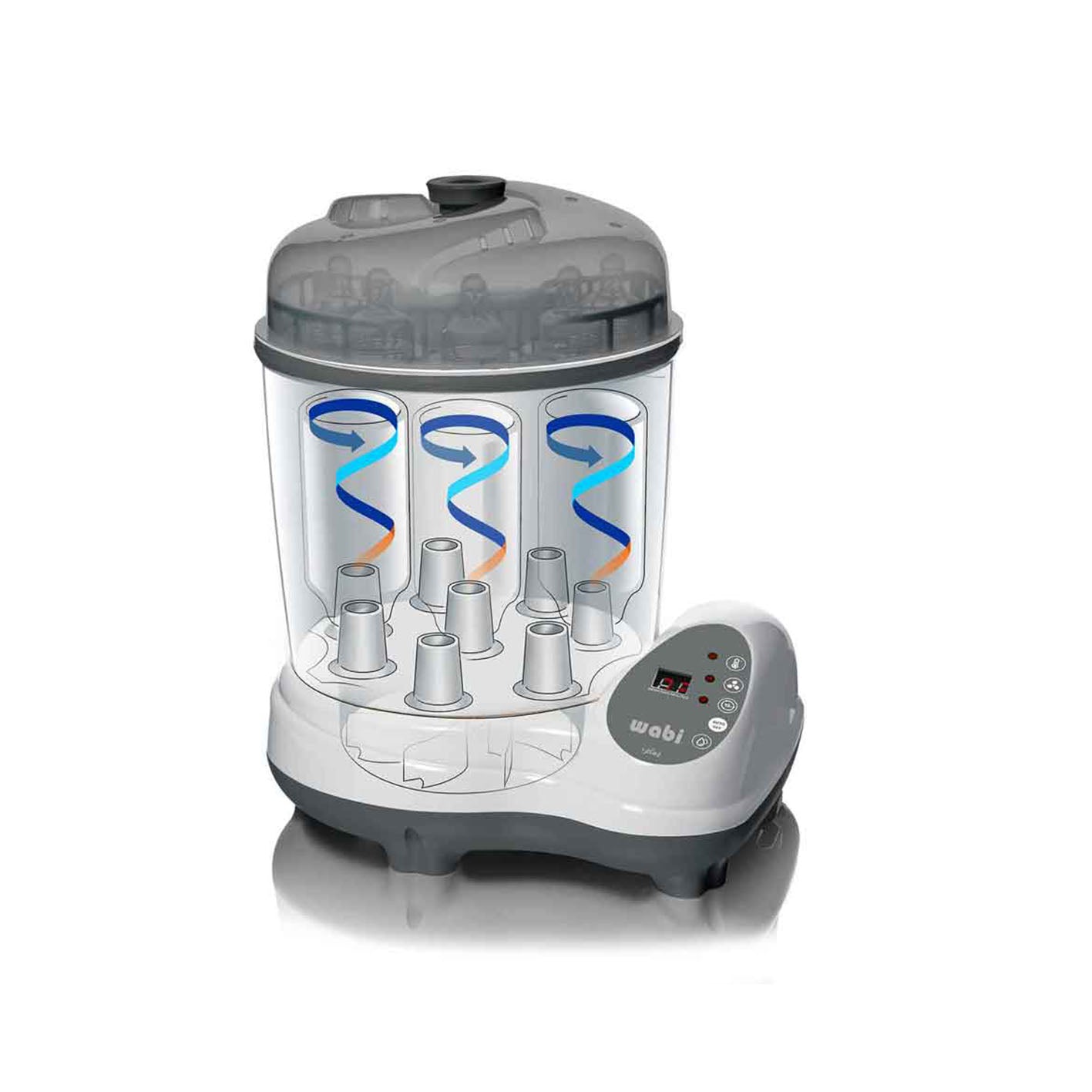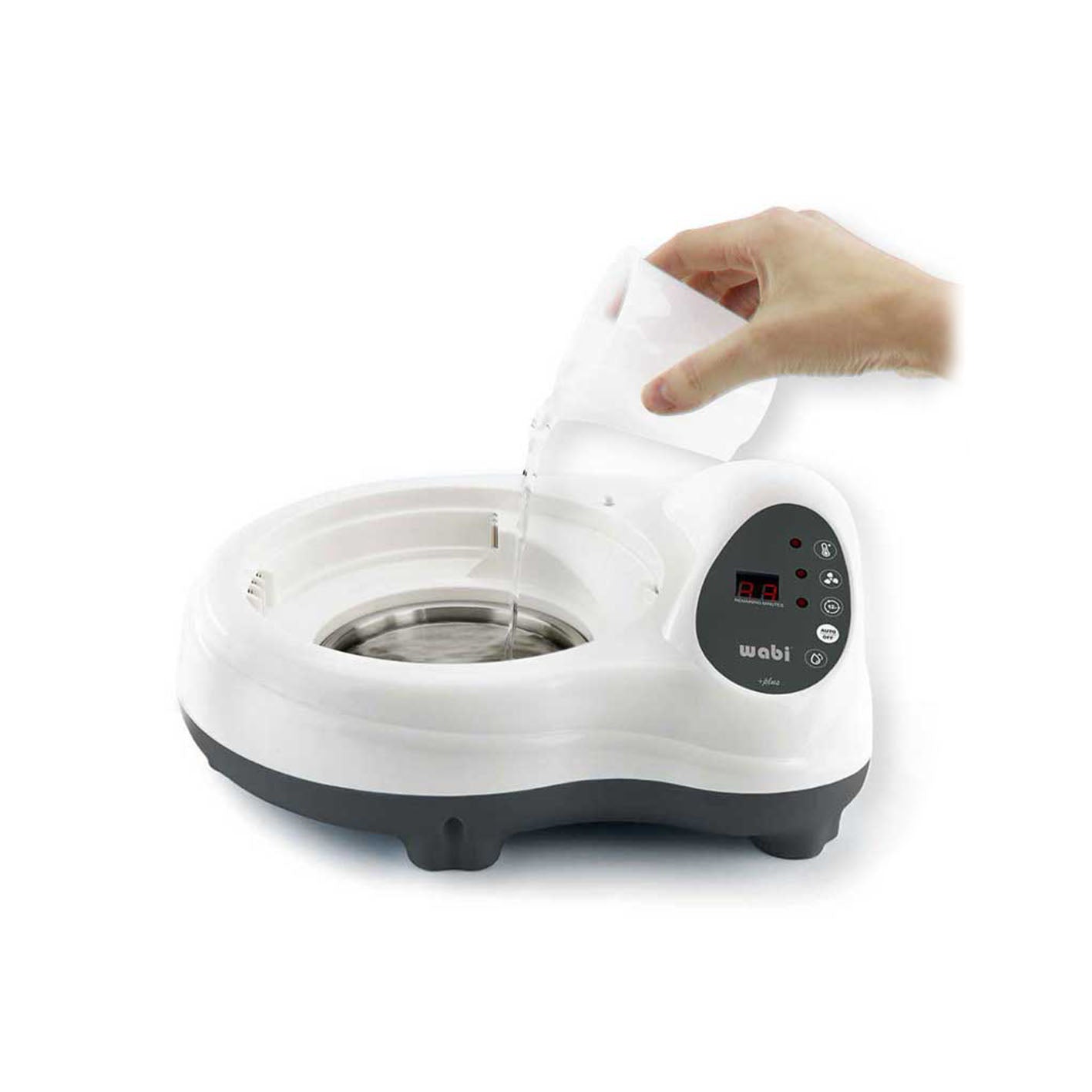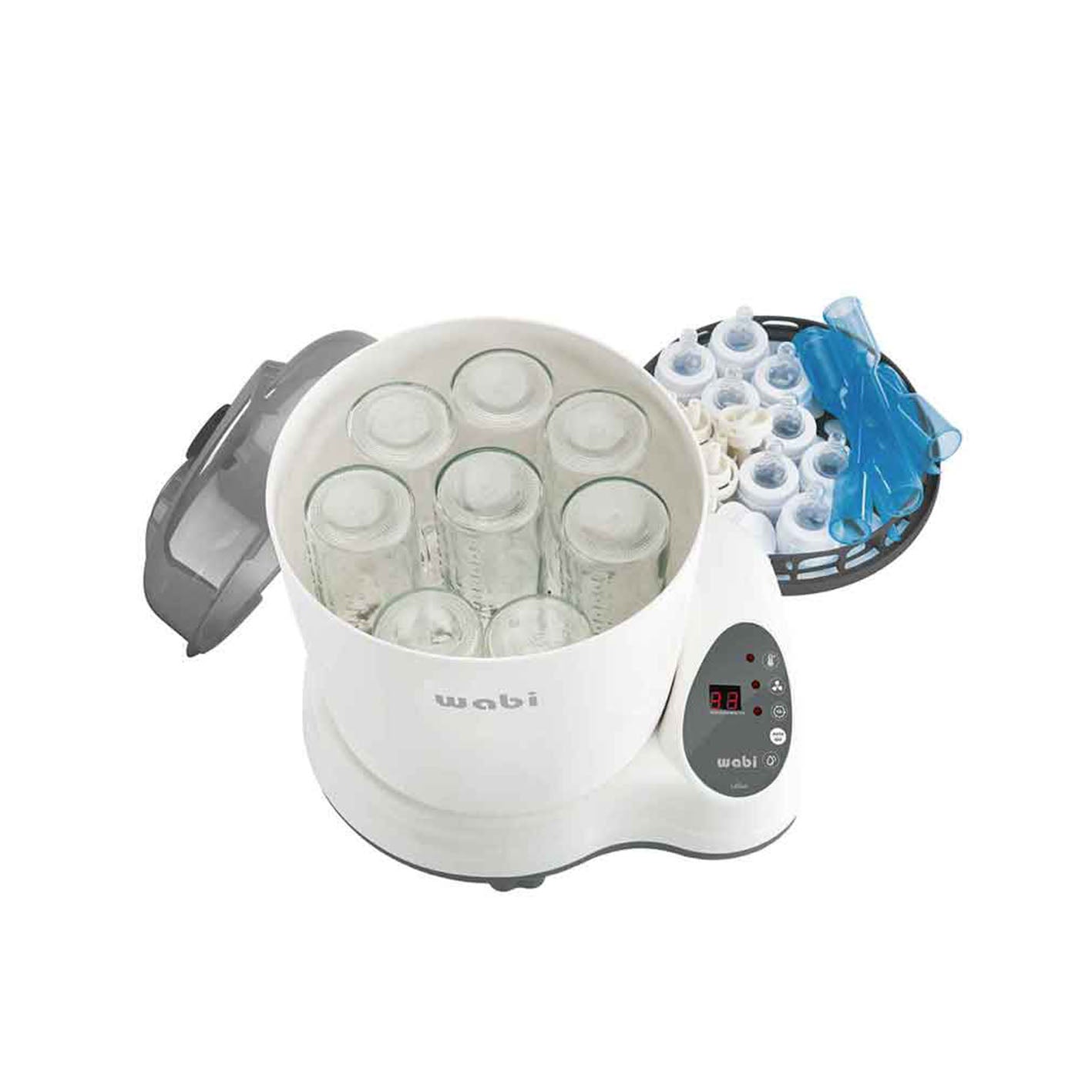 Steam Sanitizer Sterilizer & Dryer
Get it from our partners:
The WABI® Steam Sanitizer & Dryer is the first of its kind: a 3-in-1 sterilizer that combines steam sterilization, hot air drying, and storage mode to give you and your baby the absolute best protection. 

• 3-in-1: Sanitizer + dryer + Storage unit.
• Last setting memory.
• BPA Free + FDA approved materials.
• Descaling mode.
• Air dynamic air flow design.
• 99.9% effective result from 3rd party lab testing.
Free shipping within the U.S. lower 48 states. We would be happy to accept returns of any UNUSED WABI product in its original packaging within 30 days of the purchase date.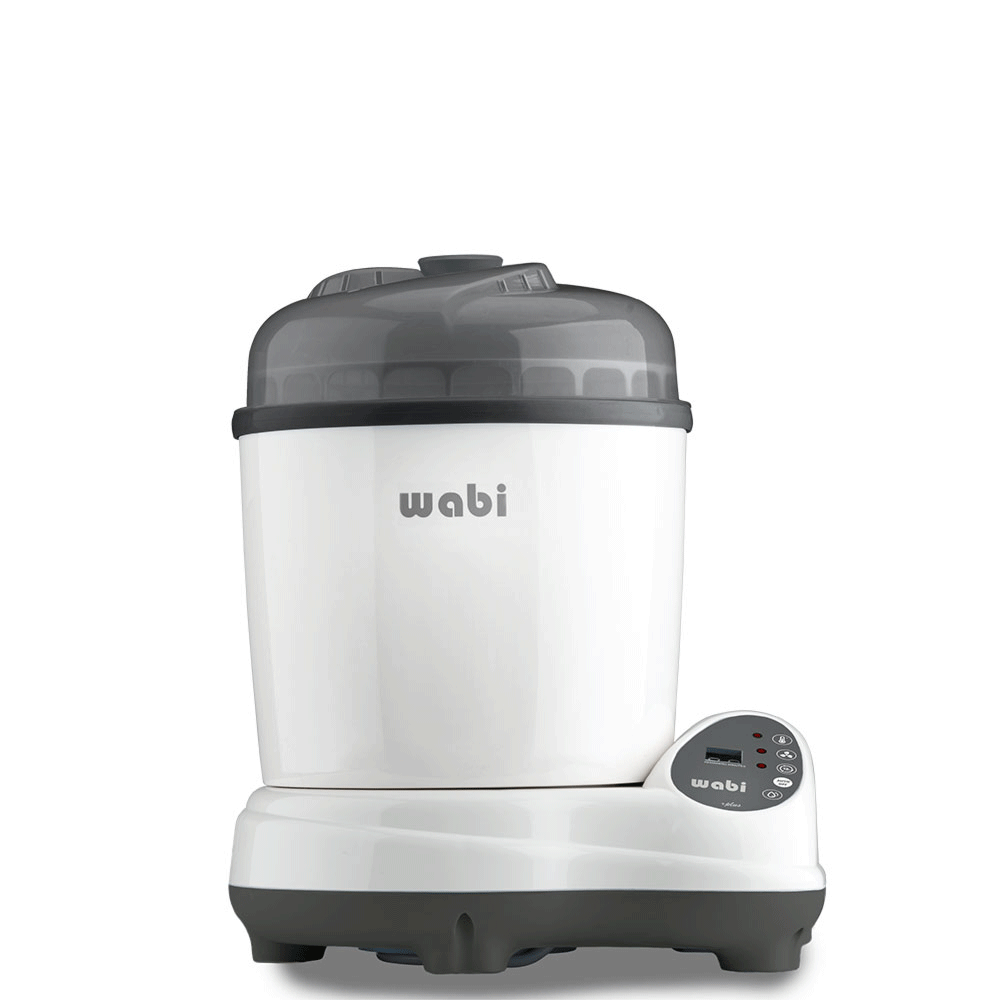 3-in-1 device that does it all
Kills 99.9% Of Germs
Say goodbye to the time consumption and health risks that come with traditional open-air drying! With one push of a button, you can have your products sterilized and dried within one hour - all with FDA food-grade approved material to ensure a toxic-free environment.


One button:
STERILIZE + DRY + STORAGE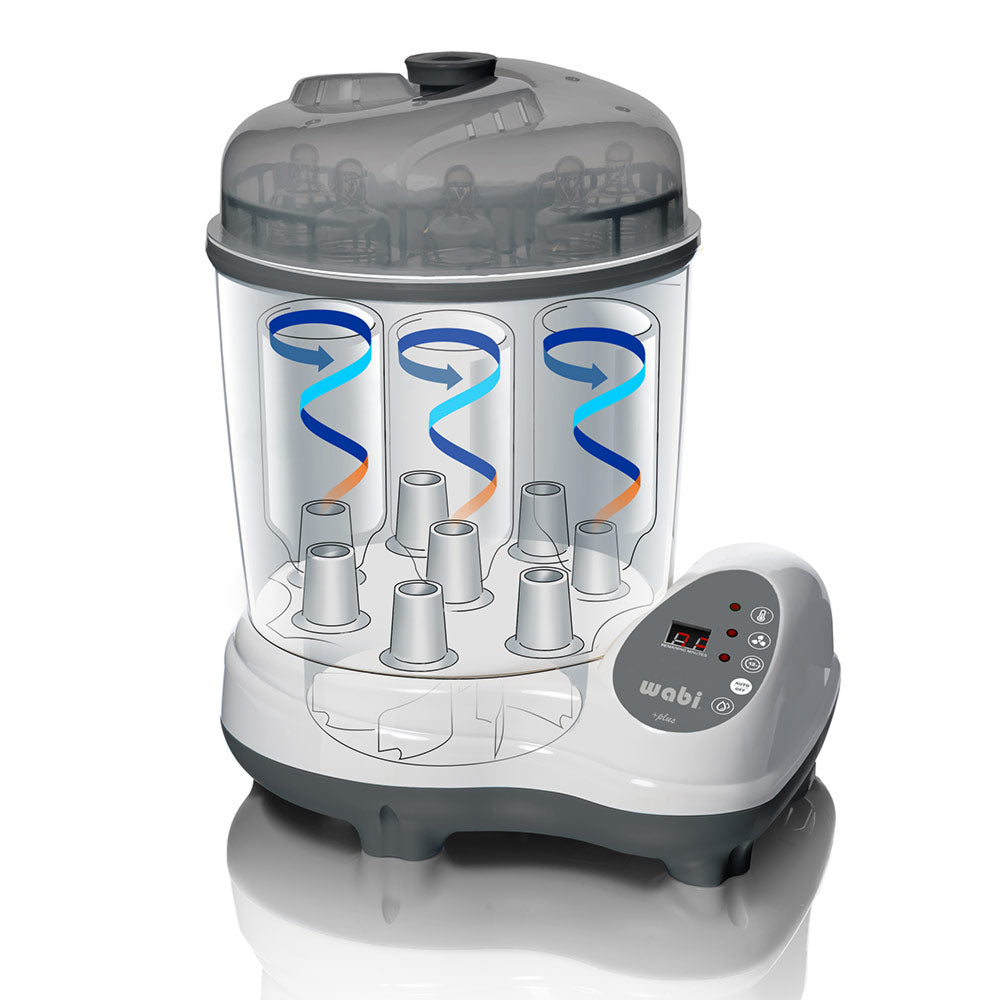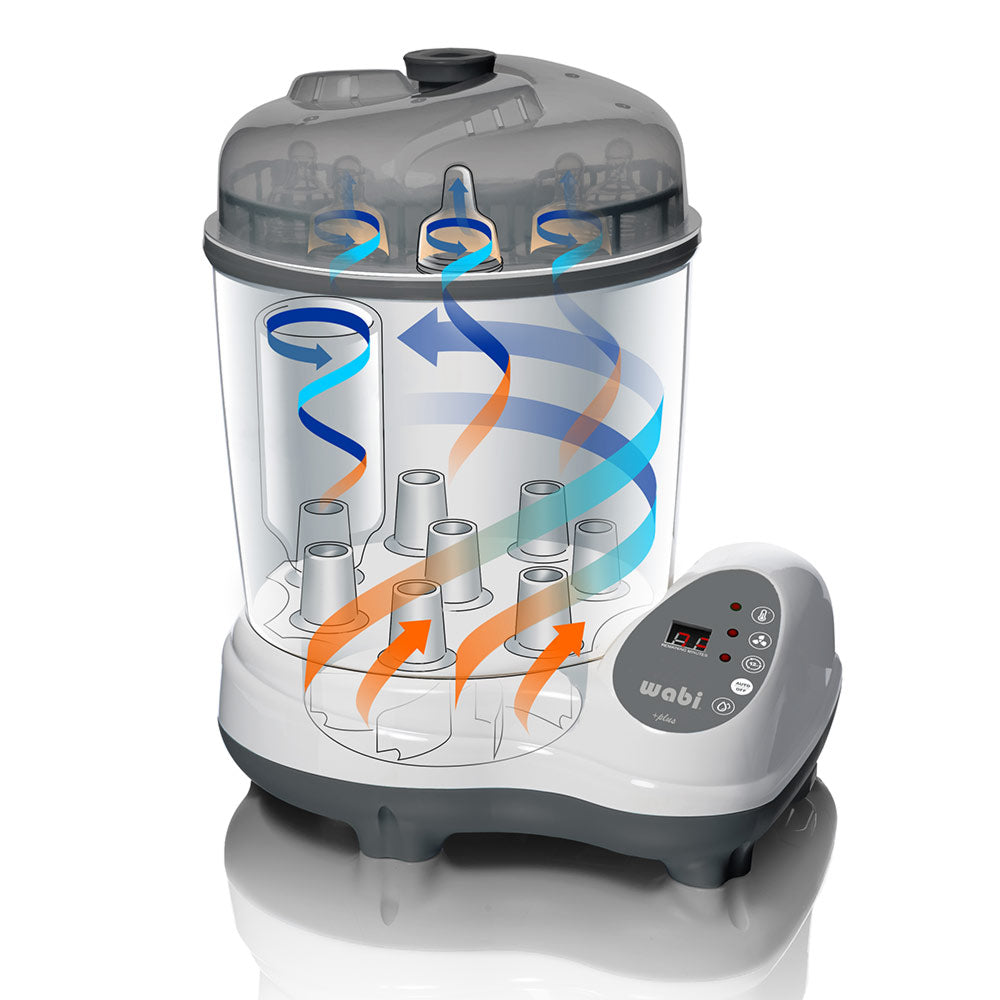 air dynamics do matter
Straight Into The Bottles
Bottle rack directs the air straight into the bottle for precise sterilization.
tornado effect
Faster And More Powerful
The air rotor design helps create the power tornado-like swirling air flow for more efficient drying and sterilization.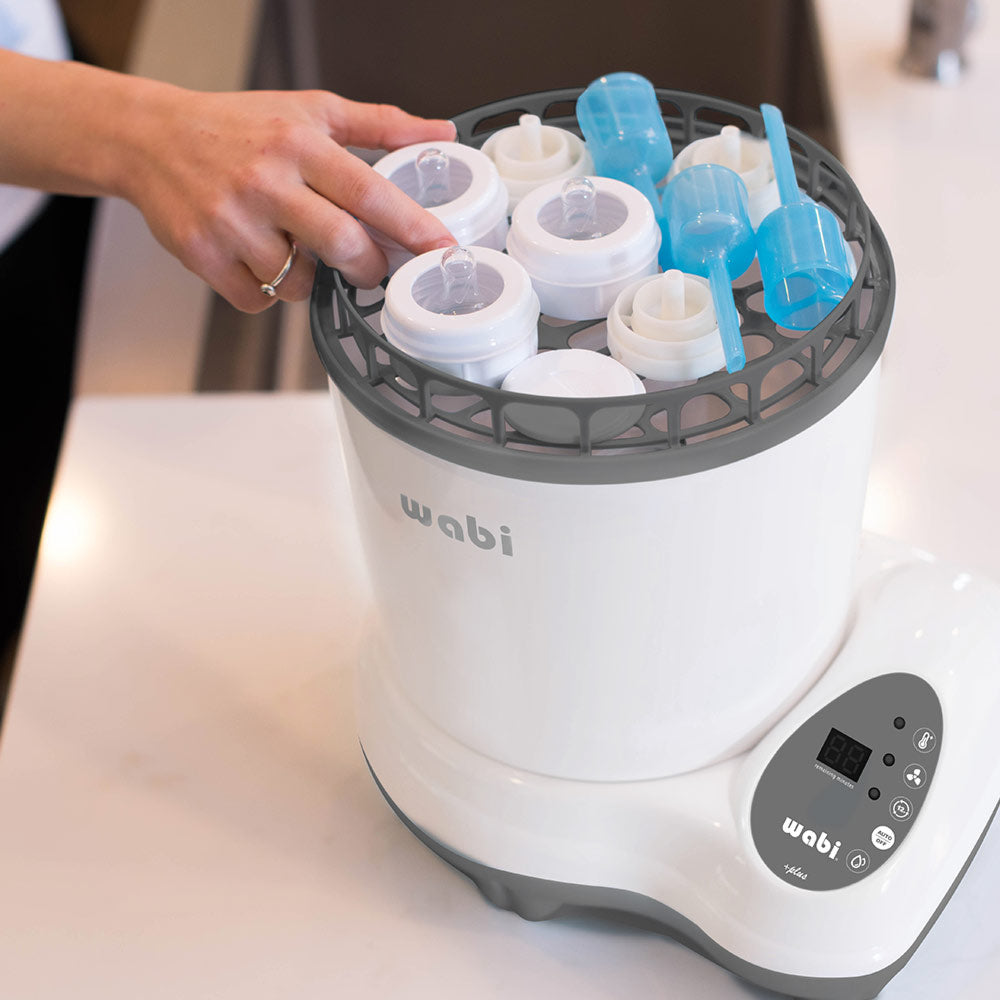 Storage Mode
Proper Storage Is Essential
The storage function activates drying automatically every 4 hours. This provides up to 12 hours of low humidity, prolongs the sterile period and helps eliminate the risk of bacteria growth.
the most logical and simple
Post-Washing Solution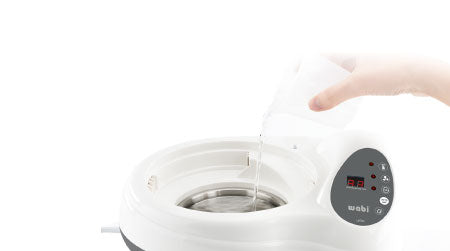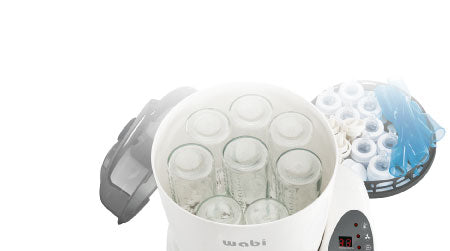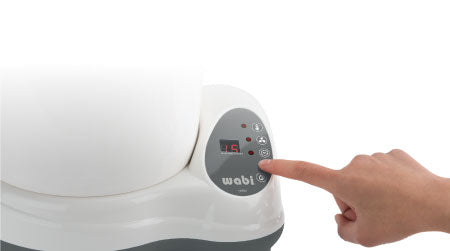 I used this with my 1st son to sterilize his bottles and all of my pumping equipment. I love how large and open the main cavity is, additionally that it's deep and I was still able to use the shelf attachment for smaller items like nipples. Super easy to use.
Jessica J.
We absolutely love our Wabi. Being able to set the sterilizing time on top of having the drying feature gives us so much more peace of mind then any other unit we've used in the past. I cannot tell you how much that means when any exposure to bacteria can lead to life threatening colonization…
Mary P.
My son was born with Cystic Fibrosis, a genetic disorder that directly effects his lungs and immune system. We have to sanitize nebulizer masks each and every day, as he does treatments daily to maintain a healthy lung function. This sterilizer will save tons of time and effort cleaning and sanitizing his nebulizer parts daily.…
Wynter D.
NOT ALL STEAM SANITIZER ARE MADE EQUALLY
SEE THE DIFFERENCES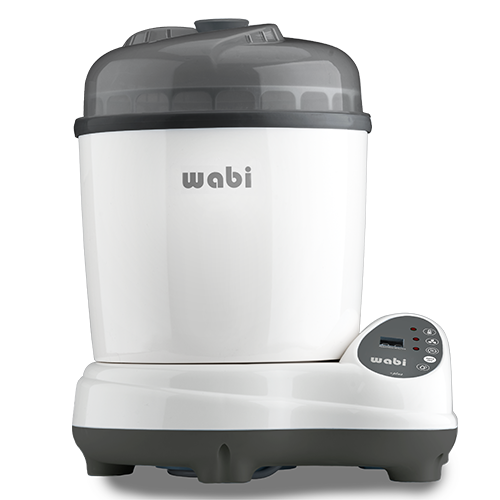 WABI®
-----------------------------------
Capacity:
✓ Fit up to 8 bottles.
-----------------------------------
Microbial Test:
✓ By 3rd party labs.
-----------------------------------
Company:
✓ A registered Texas-based company for over 10 years in business.
-----------------------------------
Product Development:
✓ Highly involved in product research and development.
-----------------------------------
Partners:
✓ Proud partner of many retailers, hospitals, and many CF clinics.
-----------------------------------
Compliance:
✓ ETL, EPA, EMC
-----------------------------------
Cystic Fibrosis:
✓ Bacteria tested with nebulizer, special CF discount with medical confirmation letter from doctor.
-----------------------------------

Others
-----------------------------------
Capacity:
Fit up to 6 bottles
-----------------------------------
Microbial Test:
In house or not tested.
-----------------------------------
Company:
Mostly dropship companies from oversea or individual dropshippers.
-----------------------------------
Product Development:
Not involved. Only buy and sell existing products.
-----------------------------------
Partners:
None eligible for retail chains. Only selling on marketplaces.
-----------------------------------
Compliance:
None, not even electrical safety.
-----------------------------------
Special Programs:
None.
-----------------------------------
Just the FAQs
No. Our products are BPA free. Wabi Steam Sanitizers are made with polypropylene (PP), a high heat resistance plastic aprroved by US FDA for food grade use.
Yes, you do. Although our device deliveries great disinfection results, it does not remove any foreign material (e.g., soil, and organic material) from the objects. The cleaning step is normally accomplished using water with detergents or wiping down for unwashable objects. According to CDC, thorough cleaning is required before high-level disinfection and sterilization because foreign materials that remain on the surfaces of the objects can interfere with the effectiveness of disinfection.
Very little. All parts (except the electrical base unit) can be dishwashed.
Learn More >
The Perfect match
Fast-Action Descaling Powder
Try our all natural 100% food grade citric acid powder. Specially formulated for our descaling function. No more scrubbing.
Product Specifications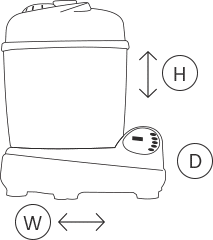 WEIGHT / DIMENSION
14" H x 12" W x 9" D
56mm H x 305mm W x 229mm D
5.5lb / 2.5 kg
ELECTRIC RATING
120V, 60Hz
Auto Mode: 475W
Drying Mode: 135W
CERTIFICATIONS
ETL Certification: 4004132
US: ANSI UL 499
EMC + LEAD Testing
MATERIALS
All FDA Approved Food Grade Polypropylene
BPA Free
FUNCTIONS
Steam - Auto-sensing and shut-off.
(typically runs for 8-12min. for 80ml of water) [1]
Drying - 10 / 35 / 45 / 60 min.
Descaling - 35 min.
Storage Mode - Activates 10-min. drying every 4 hours for a total of 3 cycles.
IN THE BOX
1 x Lid
1 x Accessory Basket
1 x Bottle Rack
1 x Plate Rack
1 x Chamber
1 x Air Flow Deflector
1 x Measuring Cup
1 x Tongs
WARRANTY
One Year Limited Warranty
[1] Time can be varied on the sterilization time and drying time.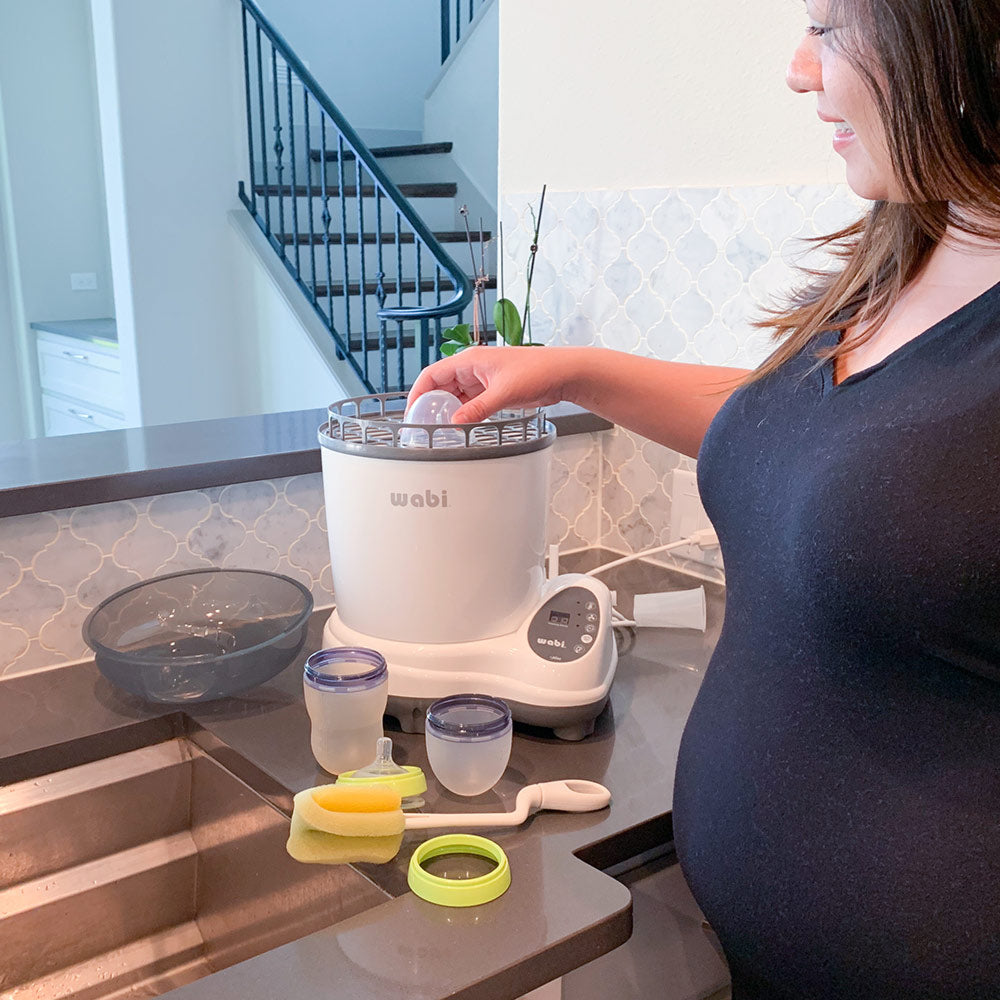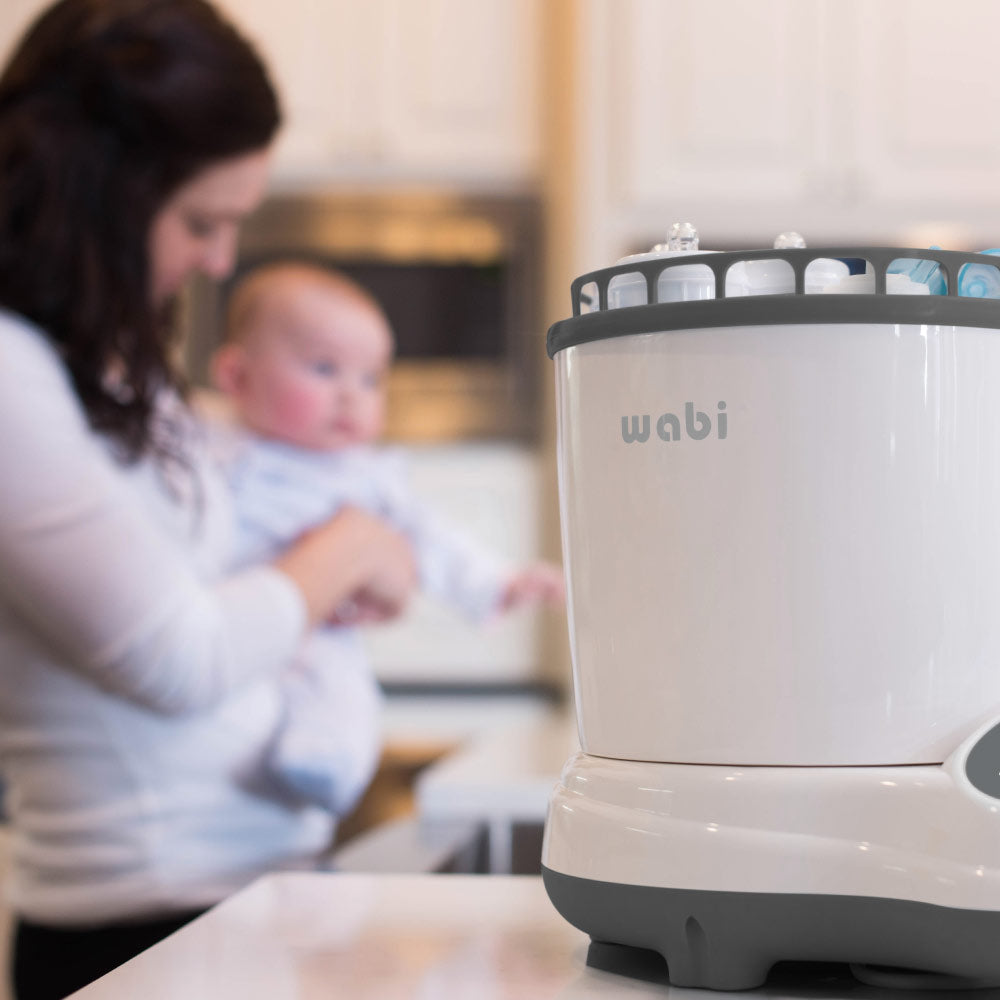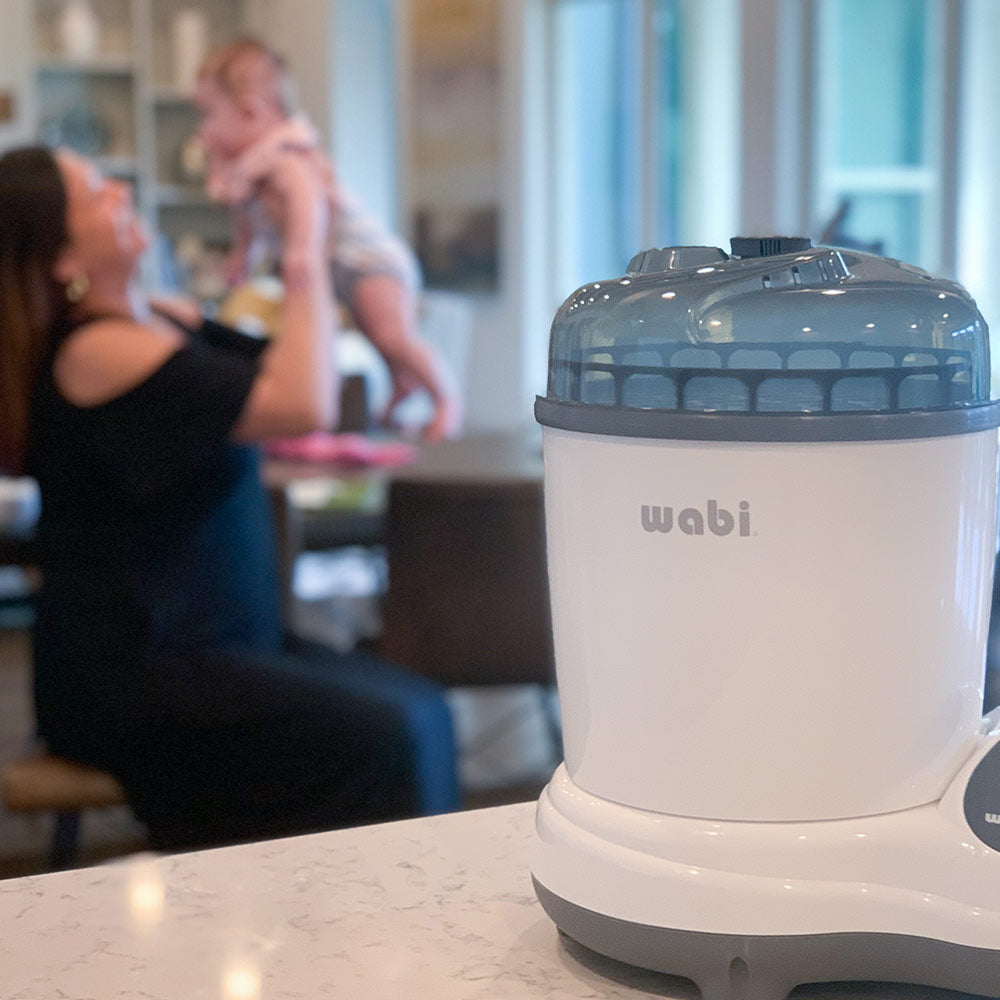 cystic fibrosis
Discount Program
Did you know with a medical confirmation letter from your doctor, you can quality for discount on our steam sanitizer?
Customer Reviews
03/14/2023
Janeal J.

United States
Wabi Review
My daughter has cystic fibrosis and the Wabi is been a huge help to our daily routine!
03/03/2023
Aahiri S.

United States
Heaven sent product
This is an absolute must possess for people with newborns. I cannot find myself to say even one negative thing about it. Just a warning to people that this requires distilled water to work (otherwise the scale build up is insane), and that you must purchase this product only if you are able to obtain distilled water very easily. This is indeed the case in USA, so we were fine. I've found that people have trouble with this in other parts of the world.
03/01/2023
Sarah B.

United States
Extremely useful
I have LOVED having the Wabi Steam Sterilizer. My youngest has Cystic Fibrosis so it's super important that all His nebulizer/breathing treatment parts are sterilized properly to prevent respiratory infection. We were using a microwave sterilizer and it was cumbersome, time consuming and the parts never dried properly. Then the Wabi arrived. I can set a load of parts (it holds a LOT!) at bedtime, and they are done the next morning and dry as a bone. I love the intermittent fan setting that helps to keep the parts dry and sterilized ready for use. It's also amazing for running a quick load if needed. I am so glad we made this purchase and also grateful to Wabi for the work they do to support CF patients by offering a discount program!
03/01/2023
Tamber S.

United States
Helps me get through the day worry free!
This makes life so easy! I love all the racks that help with organizing all the tiny parts!
02/28/2023
Katherine b.

United States
Fantastic
Love! Easy to use. Effective solution to having to boil. I use this for nebulizer cups. Can't live without it.
01/03/2023
Helena M.

United States
Great product
The Wabi has made sanitizing nebulizer parts very easy.
12/04/2022
Diana M.

United States
Broken
Great steam sanitizer but a piece was broken on arrival
11/11/2022
Tracy C.

United States
Work well
Good except for the descale powder bought from the website mess up the plate better to just use plain vinegar work much better and doesn't ruin plate
11/11/2022
Joan M.

United States
Steam Sanitizer and Dryer
I am beyond happy with this purchase and use it multiple times a day. My daughter has cystic fibrosis and this has been wonderful for sterilizing her nebulizer equipment. We're also about to have triplets and will also be using this to sterilize their bottles. Phew! Definitely worth the purchase and very pleased we were able to get a discount for CF as well.
10/17/2022
Tamber S.

United States
Awesome Sterilizer
This sterilizer makes my life easier, organizes my items neatly, and ensures they get sterilized and dried every time! The storage feature is also great in case you don't need items right away.
10/17/2022
Patricia G.

United States
09/02/2022
Lisa F.

United States
Wabi steam sanitizer
I love love love this product. Highly recommend
08/03/2022
Janeal J.

United States
Wabi Review
My daughter has cystic fibrosis and this is a huge help for us. We haven't had any problems with it.
07/03/2022
Andrea H.

United States
Perfect for our nebs
We absolutely love using the wabi to sanitize the parts of the nebulizers for medical purposes. It works great and quick!
07/03/2022
Catherine H.

United States
Never received
I got an email saying it was ordered, then canceled, and then shipped. I ordered 2 and never received one.
04/12/2022
Sonya R.

United States
Steamer Sanitizer Sterilizer
I like the product, but a hav a few issues: 1. The push buttons started to crack. 2. The unit leaks 3. The plastic inside parts developed a rust like color on some of the parts that I have not been able to get out. I have not used bleach on the parts because of sensitivity.